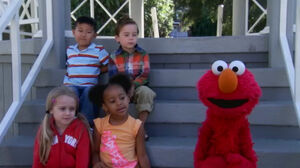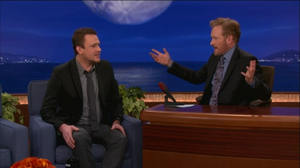 Conan is a late-night talk show hosted by writer, comedian and performer Conan O'Brien. The program's host previously starred on NBC's Late Night with Conan O'Brien and The Tonight Show with Conan O'Brien. O'Brien's long-time sidekick Andy Richter (also from Late Night and The Tonight Show) joins O'Brien on the weeknight talk show.
Appearances
October 10, 2011 ("God Never Closes a Door Without Laughing at You") - Elmo appeared in a public service announcement to defend redheads from bullies. (video) The Team Coco website also posted a behind-the-scenes video of the shoot featuring Kevin Clash and Drew Massey. (video)
November 28, 2011 ("Friends, Romans, Countrymen, Lend Me Your DVDs of "Breaking Bad" Season 3") - Jason Segel appeared as a guest to promote The Muppets. He talked about doing press for the film and screening the movie at the White House. (video)
February 6, 2012 ("The Lonely Scent of a Lean Cuisine") - Bret McKenzie appeared as a guest to discuss his Oscar-nomination for "Man or Muppet".
Muppet Mentions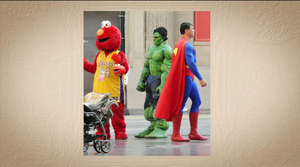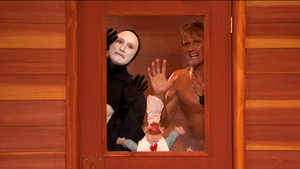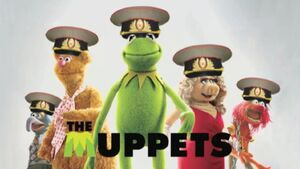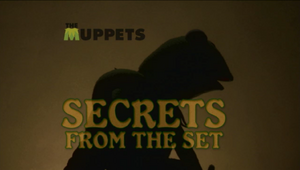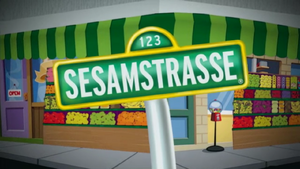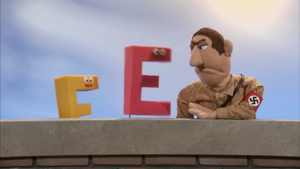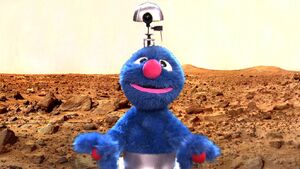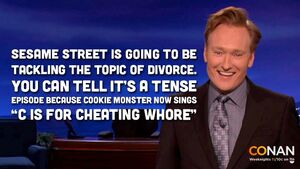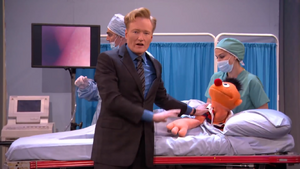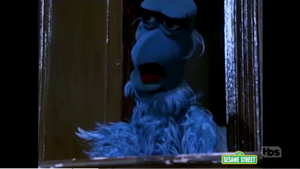 In the episode "Heavy Hangs the Fannypack" (November 18, 2010), Conan attempts to lure Prince William and Kate Middleton to hold their Royal Wedding in Los Angeles. In his sales pitch for the city O'Brien says that "free security will be provided by the Hollywood Blvd. characters; including Laker's Elmo, Unrealistic-looking Hulk, and Almost-Superman." A picture of the characters is shown.
In the episode "No Time for Tetherball" (December 7, 2010), actor Rainn Wilson (The Office) shared some of his childhood Dungen and Dragons artwork. In responce to one drawing of a creature, Andy Richter commented: "I think that's actually Bert, from Ernie and Bert inside there."
In the episode "A Sleigh Full of Slay" (December 14, 2010), Conan shows how everyone, even Elmo, has made their Christmas list. Conan shows a clip from Elmo's World: Happy Holidays! re-dubbed with new voices. In the segment, the normally high-pitched Elmo tells Santa that for Christmas he wants his testicles to finally drop. His wish is granted, and the now deep-voiced Elmo thanks Santa. (video)
In the episode "Santa vs. Rudolph vs. Predator" (December 23, 2010), Jason Segel mentions his work with the Muppets.
In the episode "A Fistful of Dollars, a Mouthful of Travelers Cheques" (January 18, 2011), Jennifer Garner and O'Brien talk about their experiences as guests on Sesame Street.
In the episode "The Asiago Index" (February 16, 2011), Conan mentions how the Sesame Street Muppets appeared on Capitol Hill earlier in the day to garner support for funding for public broadcasting. O'Brien jested that due to the hard economic times, Big Bird had to rent his egg to Lady Gaga (a reference to Gaga's 2011 performance at the Grammy Awards.)
In the episode "A Mystery Wrapped Inside a Calzone" (March 2, 2011), Conan tries to make his Finnish viewers happy by showing anti-Swedish items (as, according to Conan, Finland and Sweden are bitter rivals). The bit included showing three Swedish icons - actor Dolph Lundgren, death from Ingmar Bergman's The Seventh Seal, and the Muppets' Swedish Chef - locked in a Finnish sauna. (video)
In the episode "Countdown to Crotchfire" (April 4, 2011), comedian Russell Brand describes his impression of Nick Nolte's voice as sounding like "Mr. Snuffleupagus or Tom Waits."
In the episode "The Silvery Thistles of St. Lispmoor" (August 1, 2011), Harrison Ford responds to the box office receipts of his movie Cowboys vs Aliens and how it almost didn't come in at number one compared to The Smurfs. "It's gonna do good next weekend... unless there's a Muppets movie coming out, or, y'know."
In the episode "I Scream, You Scream, We All Scream When Our Elevator Plunges 40 Floors" (August 11, 2011), Conan commented on a petition for Bert and Ernie to marry saying "just like Andy and I have been saying for years, just because two close friends take baths together doesn't mean they're gay."
In the episode "God Never Closes a Door Without Laughing at You" (October 10, 2011), Ty Burrell said in order to keep his Sesame Street loving daughter happy when he watches football, he'll pretend the football players are actually Sesame Street characters. "I'll be going 'Elmo blew a cover, and Grover beat 'em on a deep post, and now Big Bird is yelling at him.'"(video)
In the opening of ""The Mystery of the Recent NYU Grad Who Got a Job"" (November 2, 2011), an audience member tossed an Elmo doll onto the stage. Conan and Andy riff about Elmo and the doll throughout the monologue.
In the episode "The Bourne Ultimate Frisbee Tournament" (December 5, 2011), Conan spoofs FOX News controversy created around The Muppets movie, where they claimed that the film was "left communist propaganda". Conan, then, introduces a segment showing some clips of the movie where the characters are accompanied by Sovietic Union military music.
In the episode "Armageddon Comes to Quiznos" (December 8, 2011) Conan presents a segment called 'Secrets from the Set' where apparently Kermit, disguissed to protect his identity, cames forth with allegations of misbehaviour in The Muppets movie set. Fozzie is described as a drug-dealer and Miss Piggy as an alcoholic that hit with "all the black Muppets".
In the episode "Luck Be a Man Dressed as a Lady Tonight" (February 15, 2012) comedian Myq Kaplin said, "it's confusing for gay people growing up with not as many role models. Watch The Muppet Show - so inclusive, so friendly - but even on that show, a pig can marry a frog; but it's still one male Muppet, one female Muppet. Mahna-mahnogomy. That's what it is."
In the episode "Low Brow OCD Theater Presents: Pull My Finger 40 Times" (March 5, 2012) in the recurring segment Fan Correction Conan introduces a false segment from Sesamstrasse (German version of Sesame Street) to prove that German language also uses the silent E. A Nazi puppet commands two E letters to shut up.
In the episode "Something Something Japanese" (July 26, 2012), Conan mentions the departure of Chick-fil-A and The Jim Henson Company and introduces a new puppet, Chaz the Intolerant Chick-fil-A Chicken, who promotes their chicken sandwiches and homophobia.
In the episode "License and Wegistwation, Said the Baby Cop" (October 4, 2012), Conan mentions Mitt Romney's attack on Big Bird in the presidential debate and shows a video of Romney literally attacking and killing Big Bird (doctored footage from Follow That Bird with Romney inserted).
In the episode "Dial N for 'Not How You Spell Murder'" (November 27, 2012) in a recurring segment Celebrity Survey, Conan references Elmo, finishing the phrase "Sometimes it's scary to think..." with "who has had their hand inside me for the past 10 years."
In episode 650 (November 12, 2014), Conan talks about Sesame Street celebrating it's 45th year on the air, and announces that to celebrate, Ernie is getting a colonoscopy. A parody Ernie puppet is then seen with two doctors behind him, feeding tubing into him, at one point Ernie questions if that's Bert back there. Before the bit ends, Ernie dies. Conan then frantically runs and revives him with CPR, however Ernie is mad, because he was in Heaven with Mr. Hooper.
In episode 924 (August, 24, 2016), in recurring segment Fan Corrections, a Muppet fan points out that he erred in stating that Sam the Eagle was on Sesame Street, Conan then "corrects" the fan by telling him that Sam was kicked off of Sesame Street after a controversial episode in 1973, and shows doctored footage of Sleepover at Telly's and The Great Muppet Caper showing Sam (with Sesame Street logo) swearing and sharing "racial theories" about Asian women drivers and questions what "that bird" does with children in his nest. After the video he then informs the audience that the segment was sponsored by the letter I for "idiot". He then brings up that he's aware that Elmo wasn't around in 1973, and says that instead that was his Great Grandfather "Elmo Sr. Sr."
Connections
See also
External links
Community content is available under
CC-BY-SA
unless otherwise noted.