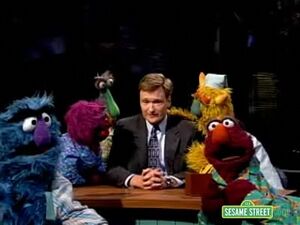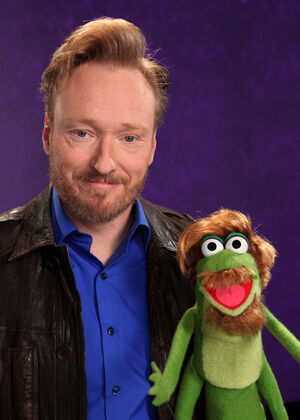 Conan O'Brien (b. 1963) is an American television host, comedian, writer, producer and performer. He is currently the host of Conan, a late-night talk show on TBS. O'Brien previously served as host of The Tonight Show with Conan O'Brien (2009-2010) and Late Night with Conan O'Brien (1993-2009) on NBC. He also served as a writer for both The Simpsons and Saturday Night Live during the 1980s and '90s.
O'Brien appeared on Sesame Street in Season 30 and season 38, plus a cameo appearance in Elmopalooza. Recently, he appeared again in season 43 to explain the word "amphibian" in a Word of the Day segment.
O'Brien also appeared in Kermit and Piggy's music video "She Drives Me Crazy."
During a race to the broadcast room in order to deliver a tape in Elmopalooza, Big Bird passes through the set of Late Night where Conan O'Brien is interviewing the Martians. Andy Richter can also be seen in this very short bit.
O'Brien was featured in the Sesame Street's celebrity version of "Sing"(EKA: Episode 3851), hosted a talk show "Late Night on Sesame Street", and presented a Word of the Day in Episode 4137.
In an appearance on The Tonight Show on March 27, 2008, O'Brien discussed being recognized on the street, saying:
"

A lot of people can blend in...but you and I are like Muppets, you know. We're very, we have distinctive looks, you know. And I'm just like, when I put on a hat and glasses I'm like Big Bird putting on a hat and glasses. People just think, "Oh, Big Bird's trying to walk down the street" and I'm like (accompanied by walking motions) GALOMPH, GALOMPH, GALOMPH, you know, (in a high voice) leave me alone!"

"
Kermit the Frog appeared on Late Night with Conan O'Brien on on September 24, 1994 to promote the releases of Muppet Classic Theater and Kermit Unpigged.
On January 28, 2011, O'Brien Tweeted about the latest season of American Idol saying: "First there was Kermit, then Cookie Monster, and now Steven Tyler. Thanks, Jim Henson!"
An image of O'Brien appeared in The Muppets on CDE's chart of "Key Demographic Analysis of Top 100 Things in Popular Culture."
External links