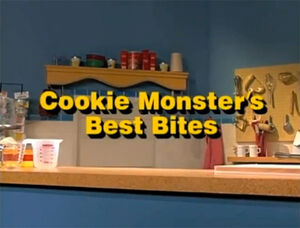 Cookie Monster's Best Bites is a 1995 Sesame Street direct-to-video special collecting classic songs and sketches featuring Cookie Monster.
Segments
Picture
Segment
Description




FRAME 1
Cookie Monster is starting his first day as a baker and is excited to bake cookies. He gets out his "ABC's of Baking" cookbook and thumbs through some tasty recipes before landing on "cookies." He can hardly control himself from devouring the cookbook, now unable to make real cookies.

Muppets
Cookie Monster sings "C is for Cookie."
(First: Episode 0372)

FRAME 2
Cookie calls his grandma for her cookie recipe and starts applying the ingredients to a bowl, several of which start with the letter C; like chocolate chips, cocoa, and a cup of flour.

Muppets
"C Drives Me Crazy"
(First: Episode 3339)

FRAME 3
Cookie has finished the cookie dough and places the tray in the oven, then suffers the agony of waiting for them to finish.

Muppets
Telly Monster demonstrates "Fast" and "Slow" to Cookie Monster by using a plate of cookies. To demonstrate slow, Telly eats one of the cookies in slow bites. After finishing eating, he asks Cookie Monster to eat a cookie slowly. Cookie Monster gives it a try, but ends up gobbling all the cookies on the plate. Telly considers it to be fast rather than slow, but Cookie Monster says it was slow in his opinion.
(First: Episode 3253)

FRAME 4
Cookie distracts himself by counting to 10, hoping that the cookies will be finished when he's done counting. However, the cookies are still not cooked.

Muppets / Celebrity
Cookie Monster and Annette Bening demonstrate here and there.
(First: Episode 3080)
Edited

FRAME 5
To get his mind off the cookies, Cookie tries to clean the bakery, but his tray and sponge remind him of cookies and he eats them.

Muppets
Cookie Monster sings "If Moon Was Cookie." (underscore added to intro)
(First: Episode 1789)

FRAME 6
Cookie can't take the waiting any longer and even considers quitting, as he still has his health, his friends, and yet he doesn't have cookies in his tummy.

Muppets
Cookie Monster sings "What is Friend?"
(First: Episode 2840)

FRAME 7
The timer rings, which means the cookies are ready! However, they're too hot for Cookie Monster to touch or even eat and he must wait for them to cool off.

Muppets
Cookie Monster sings "They Can't Take That Away from Me."
(First: Episode 2351)
Closing line cut

FRAME 8
The cookies are cool and Cookie Monster lunges for them, until his conscience tells him that if he eats them now, he'll have nothing to show for his hard work. He ignores the warning and eats them anyway.

Muppets
Cookie Monster sings "Goodbye, Little Cookie."
Closing line cut
(First: Episode 1630)

FRAME 9
Now that the cookies are gone, Cookie realizes he has nothing to sell in the bakery. He comes to terms that he may never sell any cookies, but he'll still make plenty of "dough." As the credits roll, he starts hurriedly making more cookies, but by the time the credits are finished, he ends up eating the ingredients.
Releases
Notes
Cast
Credits