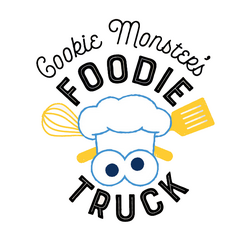 Cookie Monster's Foodie Truck (also referred to as "Monster Foodies") is a five-minute recurring Sesame Street segment introduced in season 48.
The segments star Cookie Monster and Gonger (from The Furchester Hotel), working in their own food truck and fielding orders from live children (and occasionally others) via video message. To complete their recipe, the monsters drive the truck to a specific location and learn about where certain foods originally come from.
In 2018, a series of Youtube-exclusive editions of the segment were released in partnership with Earth's Best. In these shorts, the monsters produce recipes with the help of celebrity guests.
Segments
Season 48

Picture
Description

Apples (First: Episode 4801)

Alex's grandmother is making Thanksgiving dinner but forgot the apple pie. Cookie Monster and Gonger only have one apple but need lots of chopped up apples so they visit an orchard to complete their apple pie recipe for Thanksgiving dessert.

Cranberries (First: Episode 4802)

Sally would like a cranberry muffin for breakfast, but Cookie Monster has eaten the "Tall, fluffy cookies" and Gonger realizes they're all out of "cran-ba-berries". To get more cranberries, Cookie Monster and Gonger go to a cranberry bog to observe how cranberries are grown and harvested.

Oatmeal (First: Episode 4804)

Cleo has just finished reading Goldilocks and would like to try porridge. Cookie Monster doesn't know what porridge is and calls Baby Bear who tells him porridge is oatmeal. To get more oats, Cookie Monster and Gonger go to an oat factory.

Pineapples (First: Episode 4805)

While making a half-mushroom/half-pineapple pizza for identical twins Kelly and Karla, Cookie tries to make up for eating the pineapple by sticking a pine cone with an apple and making a "pine-apple...cone" which upsets Chef Gonger. Gonger and Cookie Monster travel to a pineapple farm for the "pine-app-apple" for a pizza making party!

Grapes (First: Episode 4808)

Maya would like a fruit salad snack for her cousin Enjoli's visit. Since Cookie has eaten all the "grapies" needed for the fruit salad, Gonger and Cookie Monster take the truck to the vineyard for more. They also learn raisins come from grapes.

Avocados (First: Episode 4811)

Teresa's cat Panchita loves tuna fish and she would like Cookie Monster and Gonger to make her a tuna fish sandwich. Cookie Monster says no problem because they are "Kitty Cat Lovers", Gonger corrects him "Monster Foodies". They have everything they need except avocados, so they go to an avocado farm for more.

Angel Hair Pasta (First: Episode 4812)

Manny would like a healthy meal of angel hair pasta and vegetables. Cookie Monster wonders why he wants to eat hair, so Gonger explains it's just the name of a thin noodle, but they're all out of noodles. Cookie Monster and Gonger visit the pasta factory to get more noodles.

Onions (First: Episode 4813)

Nituna has just finished a book about another Native American girl who eats succotash and would like to try it herself. Cookie Monster has eaten all the onions, giving him bad breath, so they venture to the farm to get more.

Taco Shells (First: Episode 4816)

The Monster Foodies visit a factory where they make taco shells.

Maple Syrup (First: Episode 4821)

Rylan would like something round for breakfast, so Gonger decides they should make "pancakeys" but they're all out of fresh maple syrup. Cookie Monster and Gonger visit the maple tree farm where they harvest and process the syrup.

Eggs (First: Episode 4824)

Samara would like a birthday cake as a surprise for a friend, but they're all out of "heggs". Cookie Monster and Gonger visit a chicken farm to get eggs for a birthday cake, which turns out to be for Cookie Monster.

Honey (First: Episode 4826)

Gonger needs to help his "grandmamama" bake her buttermilk biscuits for the neighborhood after she hurt her arm, but they need the secret ingredient, honey, to complete the recipe. Cookie Monster and Gonger travel to a bee farm to get the honey.

Milk (First: Episode 4828)

Aman wants to do something kind for his friends on a hot day. Gonger comes up with the idea to make fruit smoothies but Cookie Monster has finished off the carton of milk. To the Dairy Farm!
Sesame Street Channel on YouTube

Sponsored by Earth's Best
Picture
Description

Fruit Sushi (release date: October 1, 2018)

Jenny Slate visits Cookie Monster and Gonger in the food truck. She'd like them to help her take her granola and make fruit sushi for breakfast. Before Gonger can gather all the ingredients, Cookie Monster and Jenny have eaten all the yogurt. Fortunately, Gonger has some locked up in the refrigerator.

Zachos (release date: October 3, 2018)

Ellie Kemper is looking for a healthy snack to enjoy during the big game and wants Cookie Monster and Gonger to whip up some nachos out of zucchini -- Zachos! Cookie Monster has all the ingredients but Ellie ate the cheese for the Zachos. Not a problem, Chef Gonger has more.

Monster Faces (release date: October 5, 2018)

Zooey Deschanel needs Cookie Monster and Gonger's help to make a fun healthy snack her kids will enjoy using the strawberries from her garden. She wants to make silly Monster Faces out of fruit.
Season 49

Picture
Description

Brussels Sprouts (First: Episode 4903)

Gonger and Cookie get Brussels Sprouts to make stir fry.

Jelly (First: Episode 4906)

Gonger and Cookie get Jelly to make a peanut butter and jelly sandwich for the Amazing Mumford.

Cinnamon (First: Episode 4908)

Gonger and Cookie get Cinnamon to make Cinnamon Toast.

Ketchup (First: Episode 4909)

Gonger and Cookie get Ketchup to make a Veggie Burger.

Peanuts (First: Episode 4912)

Gonger and Cookie go to a peanut factory to get peanut butter and make sandwiches with peanut butter and apple slices.[note 1][1]

Bananas (First: Episode 4913)

Gonger and Cookie go to a banana farm to make banana chips for Zooey Deschanel.

Corn (First: Episode 4915)

Gonger and Cookie go to a corn field to make cornbread.

Mushrooms (First: Episode 4916)

Gonger and Cookie go to a mushroom farm to make mushroom quiche.

Vanilla (First: Episode 4919)

Gonger and Cookie go to a vanilla farm to make dog-safe treats for a dog's birthday party, because Gonger used up vanilla to make pudding.

Seaweed (First: Episode 4924)

Gonger and Cookie dress as superheros before going to a seaweed farm to make a California sushi roll for a girl dressed as a superhero.

Pumpkin (First: Episode 4925)

Gonger and Cookie go to a pumpkin farm to make pumpkin soup for a boy whose brother is in the hospital.

Cactus (First: Episode 4926)

Gonger and Cookie go to a cactus patch to make nepalis tacos for a boy who wants to surprise his dad with something he didn't think he could eat.

Chocolate (First: Episode 4933)

Gonger and Cookie go to a chocolate factory to add chocolate to some s'mores for a girl at camp.
Season 51

Picture
Description

Starfruit (First: Episode 5116)

Gonger and Cookie go to an orchard to get starfruit to make food that looks like art.

Peas (First: Episode 5117)

Gonger and Cookie go to a farm to get peas to make pea soup for Princess Polly.

Artichoke (First: Episode 5118)

Gonger and Cookie go to a farm to get artichokes to make dino dip for two girls pretending to be paleontologists.

Mozzarella Cheese (First: Episode 5119)

Gonger and Cookie go to a deli to get mozzarella cheese to make a caprese salad for a girl who plays guitar.

Rice (First: Episode 5120)

Gonger and Cookie go to a rice field to get rice to make vegetable fried rice for two brothers playing pretend chef.

Salt (First: Episode 5123)

Gonger and Cookie learn where salt comes from to get salt to make pretzels for a girl who wants a twisty snack.

Beets (First: Episode 5124)

Gonger and Cookie go to a beet farm to get beets to make a beet-and-watermelon salad for a boy who wants a block-shaped snack for his sister.

Mangos (First: Episode 5125)

Gonger and Cookie go to a mango orchard to get mangos to make mango salsa for a girl who wants to give her teacher tortilla chips.

Mustard (First: Episode 5127)

Gonger and Cookie go to a mustard factory to get get mustard to make a turkey sandwich for a girl and her sister.

Kiwi (First: Episode 5129)

Gonger and Cookie have everything they need to make a green-fruit salad, but Cookie made a kiwi into a toy, so they go to a kiwi farm to get a kiwi.

Cashews (First: Episode 5130)

Gonger and Cookie have everything they need for a cocoa-cashew smoothie, but Cookie eats the cashews because they remind him of the letter C. So they go to a farm to get more cashews.

Olive Oil (First: Episode 5134)

Gonger and Cookie want to make linguine with garlic and olive oil. They have linguine, and garlic, but not olive oil, so they go to the olive grove to get more.

Chickpeas (First: Episode 5135)

Cookie Monster thinks he has everything in order to make hummus, until he realizes a chickpea isn't actually a baby chicken with a pea, so he and Gonger go to a chickpea farm.
Season 52

Picture
Description

Blueberries (First: Episode 5202)

Cookie Monster and Gonger need to make a blueberry trail mix. The only problem is Cookie ate all the blueberries, so they go to the blueberry farm to get more.

Tofu (First: Episode 5203)

A boy and his sister request something block-shaped, so Gonger decides to make baked tofu with vegetables. Cookie devours their tofu while checking the ingredients, so they visit a tofu factory to get more.

Sweet Potatoes (First: Episode 5204)

Cookie and Gonger need to make french fries that are colorful, so they go to the sweet potato farm for an orange ingredient.

Mint (First: Episode 5205)

Cookie and Gonger need mint leaves for iced tea, but Cookie only spared two when eating them. This isn't enough (despite being more than usual), so they go to the mint farm for more.

Watermelon (First: Episode 5209)

Cookie and Gonger seem to have everything they need to make watermelon ice pops, until they realize the watermelon is actually a cucumber, so they go to the watermelon farm to get more.
Other appearances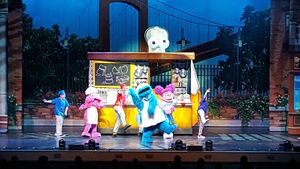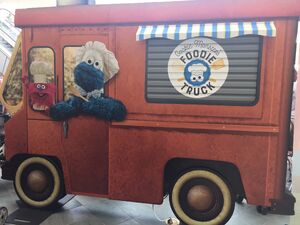 In promotion for the segment, the Foodie Truck was brought to the Metrograph theater in New York City on November 9, 2017 at a screening for The Magical Wand Chase.
A smaller, two-dimensional version of the truck, playing footage from the "Foodie Truck" segments, is used at malls during the F is for Friends pop-up tour. The Foodie Truck is also featured in the Sesame Street Live show, Make Your Magic with an in-costume version of Gonger and Cookie Monster showing the "magic" of baking cookies alongside Elmo, Abby and Justin the (human) Magician.
In 2019, the Foodie Truck became a fixture, as a functional food service stop, in the Sesame Neighborhood area of Sesame Place. In the same year, it was also added to the "Can You Tell Me How to Get to Sesame Street?" exhibit at the Strong National Museum of Play[2] and Sesame Street at SeaWorld, both as interactive gaming experiences for visitors.
A slightly dilapidated, vine-covered version of the Foodie Truck is seen in the background of "Snack-Side Down" in the show's 2017 viral video spoof of Stranger Things.
Behind the scenes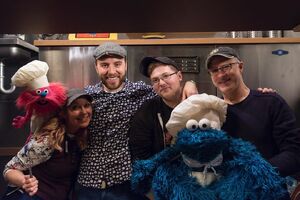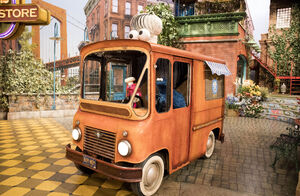 The segment was originally conceived by Warrick Brownlow-Pike, performer of Gonger, during the production of The Furchester Hotel. In an interview with Tough Pigs, he detailed:
The segment was originally pitched as a mini-series for CBeebies, which passed on it because they already had a food truck show in production.[4]
The segments are shot from three different perspectives: exterior shots using the whole truck on the street set, a raised set of the inside of the truck[3] and the on-location footage of both the Foodie Truck's travels and the various food locations.
Elements of the segment were directed by Alan Muraoka[5] and Marilyn Agrelo.[6] The foodie truck was designed by David Gallo and built by Scenic Art Studios.[7]
International
The segments were featured in the third season of the Latin American-Spanish production, Sésamo. In 2018, the segments aired as their own standalone series on the UK channel Tiny Pop.[8]
See also
Sources
Footnote
↑

Film Captive Productions was hired to film the segment in February 2019, a time when fields are bare. The National Peanut Board had filmed Longleaf Ridge Farms in Camilla, Georgia the previous year. Farmer Casey Cox was filmed on her tractor, and spliced with B-roll. The interior of the factory was also filmed.