PERFORMER
various
DEBUT
1983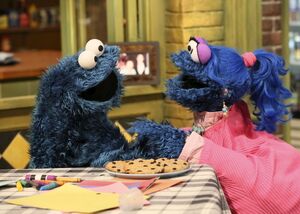 Cookie Monster's Mommy, so named because she is Cookie Monster's mother, first appeared on Sesame Street in the song "Me Gotta Be Blue," with Cookie Monster's Sister.
In Season 33 in Episode 4025, she appeared with Cookie in a Letter of the Day skit about the letter B. Though brought in to make sure Cookie fulfills his "important educational job," she has the same appetites as her progeny, and mother and son give in to temptation simultaneously.
Two seasons later in Episode 4059, she was featured in the song "The First Time Me Eat Cookie," innocently introducing her infant son to the baked good that would become his life's obsession.
Cookie's mommy has made minor recurring appearances since 2016, now sporting a pigtail. These include Episode 4618, a cameo during the song "Try a Little Kindness," several web videos, and an episode of The Not-Too-Late Show with Elmo.
Performer history
Sources
See also
External links