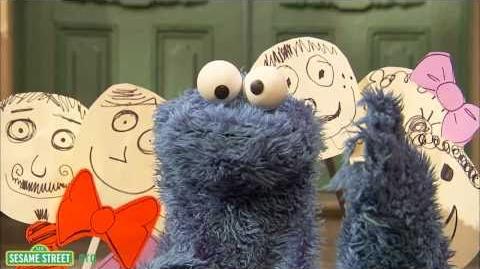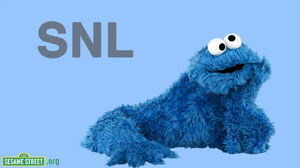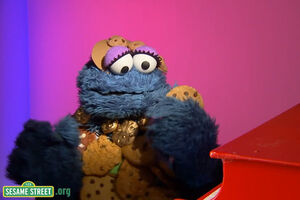 Cookie Monster Auditions for Saturday Night Live is a Sesame Street video released on YouTube on November 23, 2010 as part of Sesame Workshop's viral campaign to have Cookie Monster host Saturday Night Live. (YouTube) An official Facebook page accumulated over 100,000 fans in under one week of launching.
Cookie introduces the video proclaiming he wants to show the world that he's more than just a "cookie-eating fanatic" (though he prefers the term "cookie enthusiast"), and sees hosting SNL as the next logical step. After a mock SNL intro (with photos of the Sesame Street set), Cookie appears at the stoop of 123 and delivers a short monologue — "Blah blah blah. Cookie joke, cookie joke, cookie joke."
Cookie then stars in "Macarooner," spoofing the SNL skit "MacGruber" (a MacGyver parody). Donning wigs, Cookie plays Macarooner and his assistant who unsuccessfully try to diffuse a Quickie Bake Oven. Next, Cookie hosts "Fake News," a parody of "Weekend Update," reporting on the crummy predicament of "world famous dough guy" (a lookalike of the Pillsbury Doughboy). Cookie then introduces musical guest, Monster Gaga (Cookie in drag), who plunks out "Cookie Face" on her piano and gobbles one of the cookies from her dress. In Cookie's goodnight address, he thanks Lorne Michaels and cookie manufacturers Betty Crocker, Sara Lee, and Little Debbie. Cookie closes the video encouraging viewers to share the video and join the Facebook group.
The video was directed by David Rudman and filmed in two hours the summer prior.[1][2] The campaign was a takeoff of an independent Facebook campaign that led to Betty White hosting SNL in May 2010.[2] While Cookie did not end up hosting the show, he appeared in the December 18, 2010 episode, singing "Silver Bells" with guest host Jeff Bridges.
Sources