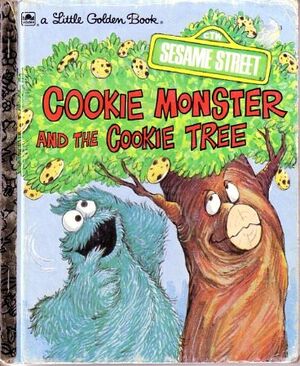 Cookie Monster and the Cookie Tree is a 1977 Sesame Street Little Golden Book.
Cookie Monster finds a magical Cookie Tree in the forest. The witch who owns the tree doesn't want Cookie Monster eating all her cookies, so she casts a spell on the tree -- it'll now only give cookies to people who'll share them. Cookie Monster hurries back to Sesame Street to find someone to share cookies with, but all of his friends think he's kidding -- they know Cookie Monster would never share cookies.
This book is partially presented in comic book style, with some of the dialogue in word balloons.
The audio edition features Fran Brill as the witch, and Caroll Spinney as the Cookie Tree.
Other editions
Released as a Book-and-Record set (BR-00010), and as a Book-and-Tape set (BT-00010) in 1981. The recording contains the live version of "C is for Cookie" after the story is over.
Released by Fisher-Price as a book-and-record set and as a book-and-tape set (FP083) in 1981
Released as a Golden Book (large form, ISBN 030710821) as well as a Little Golden Book
Translations
See also
External links