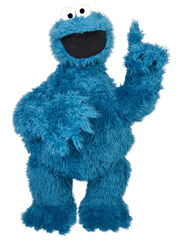 In 2019, a photo puppet replica of Cookie Monster was planned by Hasbro for their crowdfunding initiative, Hasbro Pulse "Haslab."
Prototype
The fully poseable replica was to include a cookie prop and two Sesame Street lithographs.
A prototype was exhibit during San Diego Comic-Con 2019. It's listed dimensions were 38 inches tall, 20 inches wide, 19 inches deep, and it weighed 10 pounds.  
Unfortunately, the project did reach it's targeted amount of 3,000 backers before the deadline. 
Photos