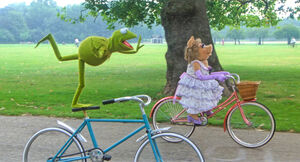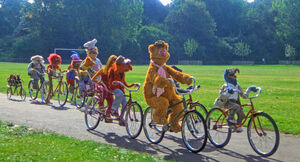 "Couldn't We Ride" is a song from The Great Muppet Caper, signaling the reconciliation between Kermit and Miss Piggy while presenting an idyllic view of cycling. Kermit and Piggy take a bike ride in a London park. At one point, Kermit decides to do a few tricks, such as riding without his hands on the bars, riding with one foot on the seat, and a hand stand. The last trick causes him to become stuck in a tree, and he falls into the basket in Miss Piggy's bicycle. At the end of the song, they are joined by other Muppets and people on bicycles.
Brian Henson assisted in the filming of this scene, which required an elaborate marionette device to have the Muppets ride the bicycles.[1] A nearly invisible wire was tied to Kermit and Piggy's bikes, and the group of bikes at the end were all tied together by invisible wires. These were pulled by two large tricycles, which can be seen very far into the background, and one of which was ridden by Brian Henson.[2] This sequence was the first scene in the movie that was shot.[3]
This clip was seen in The Muppets: A Celebration of 30 Years, introduced by Lew Zealand, who mentioned that this was his favorite movie scene.
Releases
Audio
Publications
Sources
External links
Falk, Karen. "Jim Henson's Red Book", 9/4/1980 – Begin shooting The Great Muppet Caper! Begin in Battersea Park – bicycle sequence – Brian operates Marionettes.