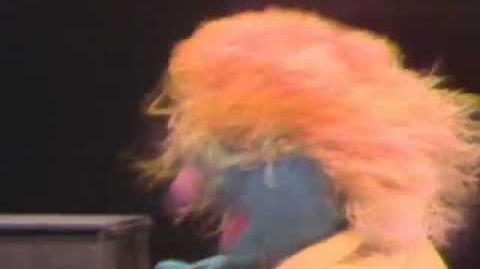 "Count It Higher" is a Sesame Street song about the thrill of counting, performed by Little Chrissy and the Alphabeats in their debut appearance.
A number-themed parody of the rock 'n' roll standard "Twist and Shout," Little Chrissy eggs on the Alphabeats to count higher than before, first up to three, then up to five. Finally trying once again, they count all the way up to ten.
Count von Count performed the song in the Sesame Street Live show, Let's Be Friends.
Notes
In the Alphabeats' first appearance, there are three backup singers instead of two, and the two members who regularly appeared look slightly different: The Lavender Alphabeat sports messy blond hair instead of a smooth brown pompadour, the Green Alphabeat has fuzzy black hair as opposed to his usual blonde hair, and they both have wide, circular eyes with no eyelids; this was the Hot Pink Alphabeat's only gig with the band. In this song, the Alphabeats are voiced by Jeff Moss, Richard Hunt, and Jerry Nelson, with Christopher Cerf pulling double duty on later verses by voicing an Alphabeat in addition to Little Chrissy.
On Count It Higher: Great Music Videos from Sesame Street, the video has MTV-style captions that refer to Letters of Love and "Broken Records". In addition, it was listed as number 1 on The Count's Countdown Show, because it was The Count's favorite song. The lyrics to this song were released on a songbook in the original VHS release.
Releases
Audio (Little Chrissy's version)
Audio (Count von Count's version)
Video
Online
Other
Community content is available under
CC-BY-SA
unless otherwise noted.