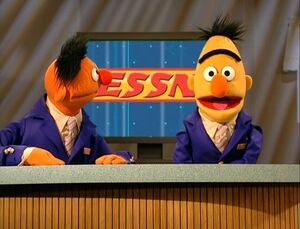 Count on Sports is a 2008 Sesame Street direct-to-video compilation which uses sports to emphasize math, relational concepts, and shapes. Ernie anchors the ESPN-style ESSN (Ernie's Sports Show News), assisted by Bert and Bernice. Grover, Prairie Dawn, Elmo, and Murray Monster also appeared as reporters on certain sport event. Vince Carter makes a special appearance in this video.
Segments/Songs
DVD bonus features
Other releases
Credits
Executive Producer: Carol-Lynn Parente
Coordinating Producer: April Chadderdon
Home Video Senior Producer: Melissa Dino
Producer: Benjamin Lehmann
Co-producer: Kevin Clash
Director: Ken Diego
Writer: Adam Rudman
Starring The Muppets from Sesame Street:
Muppet Performers: Peter Linz, Paul McGinnis, and Matt Vogel
Music Director: Loren Toolajian
"7th Inning Stretch" Song By Mark Radice
Music By Loren Toolajian
Senior Muppet Consultant: Kevin Clash
Assistant Muppet Captain: Matt Vogel
Jim Henson's Creature Shop:
Production Designer: Victor DiNapoli
Costume Designers: Bill Kellard and Terry Roberson
Art Direction: Bob Phillips
Senior Graphic Designer: Mike Pantuso
Sound Effects: Dick Maitland, C.A.S.
Segment Producers: Pratfall Productions, Misseri Studio, In Motion Productions, Inc., Marc Brugnoni Productions, Plaza Sesamo, Storyville Studios
Cameras: Frank Biondo, Jerry Cancel, Ray Hoover, Aaron Medick
Director of Music Operations: Danny Epstein
DVD Production: Frank Campagna and Franco Schettino
Vice President of Education and Research: Rosemarie T. Truglio, Ph.D.
Senior Curriculum Specialist: Autumn Zitani Stefano, M.A.
Taped at Kaufman Astoria Studios
Community content is available under
CC-BY-SA
unless otherwise noted.