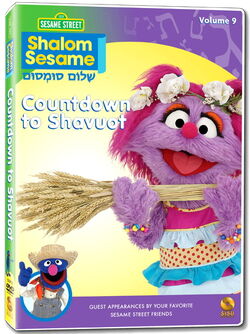 Picture
Segment
Description




SCENE 1
Avigail and Brosh observe Shoshana counting on her calendar. She tells them she's figuring out if Shavout begins tonight, as it follows seven weeks after Passover. They all count the weeks and find tonight is Shavout! Shoshana tells them to celebrate, they must first decorate.

Film
Dan, a seven-year old boy, moves into a new apartment. He shows how each doorway has a mezuzah, a special case containing a prayer from the Torah. Since they've just moved in, Dan and his father retrieve one.

Animation
The Hebrew month of Sivan

Film
Footage of an outdoor, Shavour celebration

SCENE 2
Lemlem joins the three as they decorate outside Shoshana's cafe. Avigail isn't sure where to put some decor, when Brosh sneezes it into the perfect place. Now, it's time to set out the food.

Cartoon
Words that begin with tav

Film
Misha visits his uncle, a wheat farmer.

SCENE 3
Night has fallen and everyone brings out food. Kobi brings a cheese casserole, Boris brings a cheesecake, Avigal has brought the freshest milk from the kibbutz (a real cow) and Moishe Oofnik brings an oofnik deliquesce - stinky cheese.

Cartoon
Healthy food song: Milk

Muppets
Elmo, Telly, Zoe and Baby Bear prepare to chase a cheese. A sportscaster asks them why they chase the cheese, and they all have different answers. They agree that exercise is fun, and it makes you healthy and strong. But what does the cheese have to say? "You can't catch me!" Now the chase is on! The runners all have fun going after the cheese, but they have just as much fun when the cheese goes after them! Elmo invites the sportscaster to join them.

Cartoon
Words that begin with gimmel

Muppets / Celebrity
Ben Stiller sings "The People in Your Neighborhood" with Telly, and decides that he'd like to be a person in the neighborhood. But does a cheese count as a person?




SCENE 4
Now the meal is over, the grown-ups will stay up all night and study the Torah. The young monsters want to stay up too and initiate a song, which should keep them awake. They then dance with the cow, but this makes the three fall asleep. Lemlem wonders what they're dreaming about...

Cartoon
Brosh portrays Moses, as he introduces the Israelites to the Torah.

Film
A child performs a poem called "Night" in sign language.

Muppets
The Number of the Day: 5
Five bats show up when The Count reveals that 5 is the number of the day. "Anyone for cake?"

Film
The Number of the Day: A remake of the Number Song Series brings forth 5. (opening ribbon sequence cut)

Muppets / Film
Postcard from Grover
Grover reports from Makhtesh Ramon.

Closing
The sponsors are announced.
DVD Bonus
Community content is available under
CC-BY-SA
unless otherwise noted.