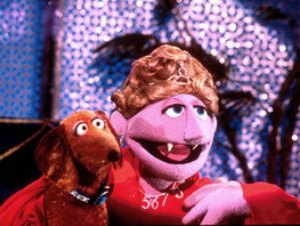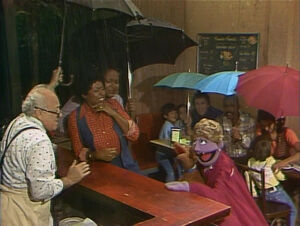 Countess Dahling von Dahling debuted in Season 12[1] of Sesame Street (specifically Episode 1447).
She is the 5th cousin of Count von Count, taking residence at his castle in her debut episode while he tends to a counting emergency back in Transylvania. Much like her cousin, she has an affinity for counting. However, instead of thunder and lightning punctuating her counts, she causes a rainstorm (even when indoors). This is reversed simply by counting backwards. She is typically accompanied by her dog Masha, who helps remind her of certain numbers when counting.
One of her appearances was a musical insert set in a cabaret, where she demonstrated to the customers her ability to count forwards and backwards.
Although she refers to herself in dialogue as Countess von Dahling, she is listed as Countess Dahling von Dahling in a

season 12 press release, in Sesame Street Unpaved, in a 2014 trivia tweet from the @sesamestreet official Twitter feed, and on the Sesamestreet.org character profile (including image and character description of Countess Dahling von Dahling, but linking to clips of a different Countess).
Notes
Appearances
Book appearances
See also
Sources
↑ Season 12 Press Kit, CTW Archives
↑ Borgenicht, David. Sesame Street Unpaved. p. 131
Community content is available under
CC-BY-SA
unless otherwise noted.