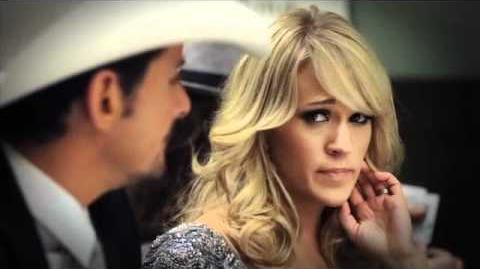 The Country Music Association Awards, also known as the CMA Awards, were first presented at an untelevised ceremony in 1967.
Miss Piggy appeared as a presenter (and also promoted The Muppets) at the 45th Annual CMA Awards on Wednesday, November 9, 2011 (aired live on ABC). Country stars Brad Paisley and Carrie Underwood returned as hosts. During her appearance, Piggy karate chops Paisley, landing him on the floor.
Miss Piggy also appeared in the advertising campaign for the 2011 award show. In a series of ads, Paisley and Underwood wait to be called in an audition room. In one ad, Miss Piggy comes out a successful interview, and tells Brad to come with her. (YouTube) In the second ad, she merely laughs at Paisley and Underwood. Underwood says "And I thought you were a ham", to which Piggy retorts, "I heard that!" (YouTube) Other videos include Mickey Mouse, Minnie Mouse,(YouTube) Donny Osmond, Marie Osmond,(YouTube) Brick Heck (Atticus Shaffer) and Sue Heck (Eden Sher) from The Middle. (YouTube)
At the 49th CMAs on November 4, 2015, Miss Piggy and Kermit the Frog appeared in the audience (prerecorded and superimposed into the scene, along with a few other audience members), noticeably sitting apart from each other as a sign of their recent split.
Community content is available under
CC-BY-SA
unless otherwise noted.