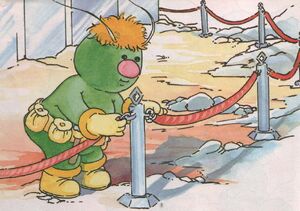 Crankshaft Doozer appears in the Fraggle Rock storybook Cotterpin's Perfect Building. After Cotterpin Doozer designs the Perfect Doozer Building, Crankshaft is among the many Doozers who admire it, expressing that it would be a shame to let the Fraggles eat it. But after they decide to rope the building off to prevent them from consuming it, he wonders, "What now?"
After they all take time out from building to play games and relax, Crankshaft and Sandpaper Doozer start to notice some faults with the perfect building. Crankshaft thinks that it is "just the teeniest bit squatty," and they decide to send a delegation to Cotterpin to ask to begin building more new buildings, and he suggests they allow the Fraggles to eat the Perfect Doozer Building.
Community content is available under
CC-BY-SA
unless otherwise noted.