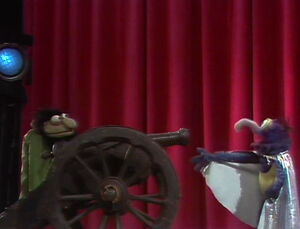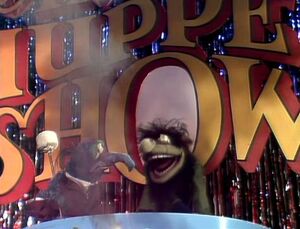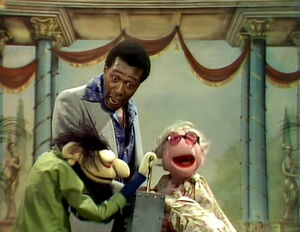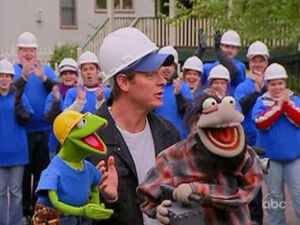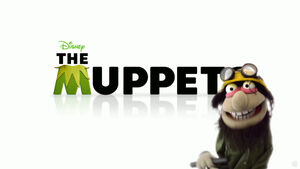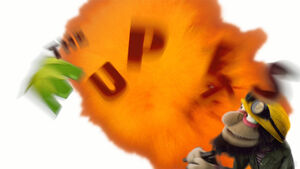 Crazy Harry is the pyrotechnic expert on The Muppet Show. An unkempt figure with wild eyes and a mad cackle, he delights in blowing things up. His trademark is appearing at the slightest mention of an explosive-related word, and reiterating it in the form of a question (e.g. "Did somebody say bang?") before setting off an explosion.
In addition to explosions, he played the triangle bell in the Muppet Orchestra during the first season opening and closing and in the second season closing. His finest hour may well have been in episode 306, accompanying Jean Stapleton on the explodaphone for a particularly frantic rendition of "I'm Just Wild About Harry."
He originally appeared in The Muppets Valentine Show, as Crazy Donald -- a reference to Muppet builder Don Sahlin, who enjoyed creating the Muppets' special effects explosions. His name was changed to Crazy Harry in his second appearance, The Muppet Show: Sex and Violence.
His film appearances have included, amongst others, The Muppet Movie (as the special effects expert), The Great Muppet Caper (as a resident of the Happiness Hotel), The Muppets Take Manhattan (attending the wedding), Muppets from Space (at the beach), The Muppets' Wizard of Oz (as one of the Flying Monkeys) The Muppets (where at one point, he uses explosives to carve his head into Mount Rushmore) and Muppets Most Wanted, where he sets off explosions during Christoph Waltz' number. He appeared in the Stars and Stripes FOREVER! online video and A Muppets Christmas: Letters to Santa.
When reruns of The Muppet Show were shown on TNT, a Crazy Harry doll was planned as a gift for employees at the network, but only the head (sans eyes) was produced. A Crazy Harry action figure and a bust were later marketed.
Notes
In the UK's Muppet Show Annual 1977, Crazy Harry is referred to as "Mad Harry".
When asked about Crazy Harry's lack of appearances in 2007, Jim Lewis replied "A combination of things. First, Jerry Nelson performs Crazy Harry and his availability is one factor. Second, Crazy Harry is always punctuation, so the scene has to fit his personality and his unique talent for blowing things up. And third, unofficially, I find that in a post-9/11 world, blowing stuff up—even in foolish fun—isn't as funny as it once was. But again, that's my personal opinion."[1]
Casting history
Main Performers
Alternate Performers
Filmography
Book appearances
Sources