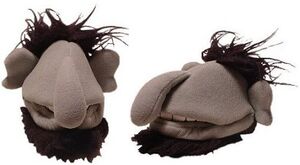 In 1988, a Crazy Harry plush doll was commissioned as a promotion for employees of Ted Turner's network TNT, which was airing The Muppet Show at the time.
The Muppet Workshop worked on the prototype, but all that was created was the head, and the idea was dropped.[1]
The head was to be 7 inches long and 3 ½ inches wide. The entire plush was to be roughly 15 inches tall.
Sources