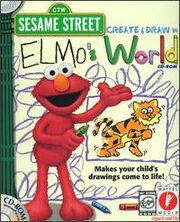 Create and Draw in Elmo's World is a Sesame Street CD-ROM game for Windows computers. The game was developed by Mattel Media in 1999.
Elmo invites the user to join him into an adventure of an interactive drawing and animation experience.
Contents
The Drawing Page: This area is utilized by the majority of the activities while creating and drawing animals and finishing scenes.
Picture Poem: Elmo reads poems that are all about animals one line at a time, which draws a small portion of the animal after each line is read. Visit the activity by clicking on the picture on the wall.
Dorothy Imagines: Help Elmo's goldfish Dorothy pick different animals to imagine Elmo as. Or you can see what Dorothy imagines about herself. Click on Dorothy's bowl if you want to do all this.
Draw a Song: Sing a song about animals with Elmo in six places. Each musical note represents a different scene and song - the tree stump, the backyard, the pond, the beach, the pet store, and the coral reef. Select the piano to play the game.
Mix-N-Match Animals: Make strange and unusual animals by mixing and matching their heads, bodies, and tails/feet. Click on the dresser to go to this area.
The Big Zoo: Explore a rainforest, a farm, a savannah, and life underwater and draw the animals that live in each environment. For this activity, click on the door.
Animal TV: Watch seven different TV stations of animals, and you could also watch your drawings on TV as well. To access this kind of fun, click on the television.
Users can even click on the window shade to see what's going on outside Elmo's window.
Community content is available under
CC-BY-SA
unless otherwise noted.