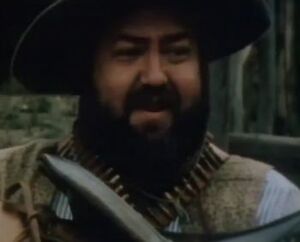 Cris Huerta (1935-2004), sometimes billed as Cris Huertas or Chris Huerta, was a Portuguese actor who worked in Spain, appearing in Spanish, Italian, and other European films (notably spaghetti Westerns). For the German Sesame Street co-production Sesamstrasse, Huerta played a typical Western bandit, member of the Dollar Gang, in a series of five filmed "Verkehrswestern" (Traffic Western) segments. The inserts were produced in 1980.
Huerta made his film debut in the 1961 Italian sword-and-sandal film Ursus (as a wrestler). Beginning with The Secret Seven (1963), Huerta worked steadily in spaghetti Westerns, usually as portly bad guys, sometimes as drunken barflies and other atmospheric characters. Examples included The Relentless Four (with Adam West), Navajo Joe (with Burt Reynolds), Django, Bandidos, A Town Called Hell (with Telly Savalas and Martin Landau), and Sabata the Killer. One of his larger turns was as Bad Jim in 1969's Alive or Preferably Dead.
In the seventies, Huerta transitioned to playing comedic sidekicks, often named Bud or Buddy (in reference to heavyset Italian star Bud Spencer of the Trinity movies). He appeared with Ricardo Palacios in Fabulous Trinity (1972) and its sequel Fat Brothers of Trinity (1973), and with others in The Three Musketeers of the West (as Portland, the Porthos counterpart) and Robin Hood, Arrows, Beans and Karate.
Outside the Western genre, Huerta's credits include horror entries like Jess Franco's The Diabolical Dr. Z (as Dr. Kallman, one of the victims) and Paul Naschy's Howl of the Devil, the German action film Roots of Evil (with Deep Roy), and Tarzan and the Kawana Treasure. For Spanish television, he appeared multiple times on the horror anthology Historias para no dormir (first in 1968, and returning in 1982). Later films included the surreal comedy Amanece, que no es poco (1989, as one of many wacky townspeople) and the French film The City of Lost Children (1995, as a priest).
External links
Community content is available under
CC-BY-SA
unless otherwise noted.