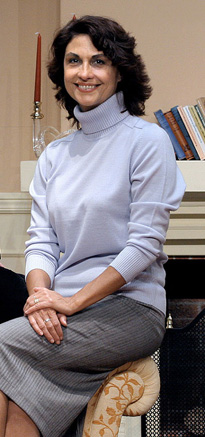 Cristina Higueras (full name Cristina de la Asunción Higueras, b. 1961) is an actress who played Cristina in the Spanish version of Sesame Street (Barrio Sésamo) from 1983 to 1984.
Higueras, who is fluent in English and French, began her career as an actress with Barrio Sésamo and Spanish comedy J.R. contraataca, directed by Francisco Lara Polop, where she played a small role as one of the secretaries.
Higueras' contract with Barrio Sésamo was not renewed, so she continued her career in other movies and series, including dramas, TV series and hosting programs for Televisión Española.
She had a new taste of an international production with Jess Franco's Dark Mission: Evil Flowers (1988), where she played the naïve daughter of Christopher Lee's drug lord character.
During the late 1980s, Higueras' career continued mainly on Spanish TV, as the hostess of show La Tarde, and even acting as a contestant in TV show Waku waku in 1990. Later, she began working in international productions such as Shooting Elizabeth (Baz Taylor, 1992) and Hostage (Robert Young, 1993). She also had roles in Spanish TV series, mainly Truhanes, with Francisco Rabal, and Hermanos de leche, both in 1994.
She did not have any considerable roles from 1994 until 2000, when she began to appear again as a recurring guest (Marta Olmedo) in TV series Paraíso, and in a dramatic short. Since then, she returned to more prominent roles on TV series, and also played in different TV game shows like Pasapalabra. She has became important enough to act as herself in different shows and to host the Spanish TV awards.