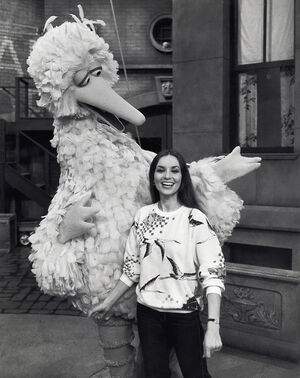 Crystal Gayle (b. 1951) is a country-pop singer, who has released over twenty studio albums beginning in the 1970s. She is probably best known for the song "Don't it Make My Brown Eyes Blue".
Gayle was the guest star on episode 402 of The Muppet Show.
In 1982, she appeared in the 14th season of Sesame Street, and sang "Songs" with Big Bird on the Sesame Country album. She and Big Bird also performed the song on Country Top 20.
Her older sister Loretta Lynn was also a Muppet Show and Sesame Street guest.
External links