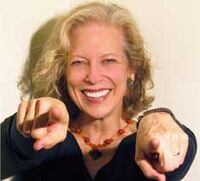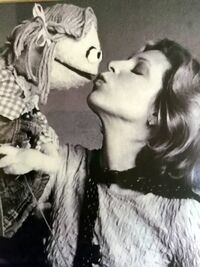 Cynthia Adler is a voice actress who performed as a puppeteer on two episodes of The Muppet Show. Jim Henson and Frank Oz trained Adler in the art of Muppetry and, despite her short stay with the show, she created a few memorable characters. Her Muppet roles include Cynthia Birdley, the duck from episode 113, and the pink creature who sang "You Do Something to Me" in episode 112.
Adler's voice has been heard in commercials for Revlon and Estee Lauder, and promos and documentaries for programs like the PBS series American Masters. She has also voiced characters in Rudolph and Frosty's Christmas in July and various other Rankin/Bass productions, The Amazing Chan and the Chan Clan, and two specials from Hanna-Barbera. In foreign film dubs, she re-voiced Catherine Deneuve in The Last Metro, Marisa Paredes in Life Is Beautiful, and roles in the French animated film Fantastic Planet. She wrote and performed in various venues the one-women comedic play Downloaded -- And In Denial.
In 1975, Adler played the Invisible Girl in a short-lived Fantastic Four radio series. The cast also included Bill Murray as the Human Torch.
External links
Community content is available under
CC-BY-SA
unless otherwise noted.