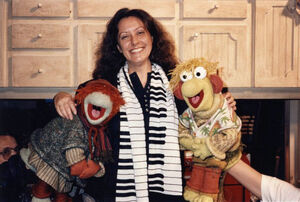 Cynthia Friedlob is a writer who worked on many episodes of the animated version of Fraggle Rock, usually teamed with John Semper. She collaborated on both story and final script (sharing credit with other writers), and she and Semper served as joint story editors (working with Michael K. Frith to create the series writers' bible).[1] Friedlob and Semper also worked on story development for the "Dog City" installment of The Jim Henson Hour, although their names were left out of the credits.[2]
Friedlob's worked as a writer or story editor on various animated series, notably for Hanna-Barbera: Shirt Tales, The Biskitts, The Smurfs, The Snorks, Pink Panther and Sons, SuperFriends, and three different Scooby-Doo series. Other credits included Alvin & the Chipmunks, Kissyfur and the animated Kid 'n Play series. The latter, again working with John Semper, led to the screenplay of Kid 'n Play's 1992 feature film Class Act. In subsequent years, Friedlob has exhibited her work as a visual artist and hosted the radio show Experience Talks over KPFK-FM in Los Angeles.
Writing Credits
Sources
↑ "9/–/1987 – 'Fraggle Rock Animated goes on NBC. Muppet Babies are 90 minutes. 8:30-10 AM.'. Jim Henson's Red Book. Posted Sept. 03, 2013.
↑ Jim Henson's Red Book entry. November 5, 2012.
External links
Community content is available under
CC-BY-SA
unless otherwise noted.