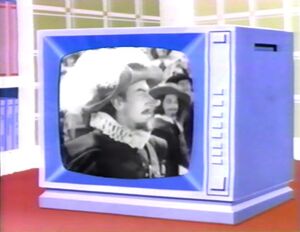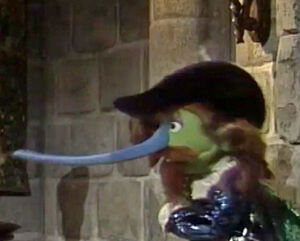 Hector Savinien de Cyrano de Bergerac (b. Savinien de Cyrano, 1619-1655) was a French dramatist, best remembered from fictional accounts of his life story (the most famous being a play by Edmond Rostand), and is known more commonly as Cyrano de Bergerac. Cyrano de Bergerac, however, is a fictional character. One of the few common traits between the fictional Bergerac and his flesh and blood inspiration is that both have a large nose.
The story of Cyrano de Bergerac has given rise to a popular comedy trope in which someone too shy or inarticulate to pursue the object of his affections gets a friend to supply his words for him.
References
Cyrano was spoofed on Sesame Street with the character Cyranose de Bergerac, who made a few appearances, including an episode of "Monsterpiece Theater". One of his later appearances, episode 3233, borrows heavily from the storyline of the play, where Cyranose falls in love with Roxanne, a big-eared girl named after the love interest of the play. He enlists the help of Elmo, who performs the role of Cyrano as he helps Cyranose get rid of his accent.
In an episode of the French version of Fraggle Rock, Doc is rehearsing for his upcoming stage performance as a swashbuckling Cyrano de Bergerac.
In a Plaza Sésamo scene, Pancho Contreras helps out a lovestruck prince ala Cyrano by feeding him a poem for the lovely Princess Sofía. The prince mishears everything Pancho says, but manages to win her affections anyhow. (YouTube)
Connections
Community content is available under
CC-BY-SA
unless otherwise noted.