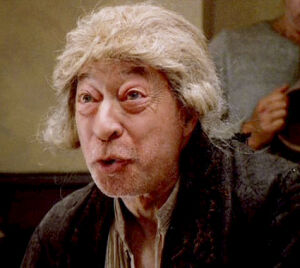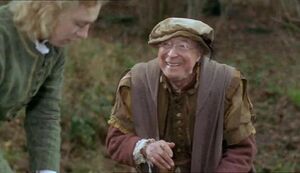 Cyril Shaps (1923-2003) was a British actor of Polish descent, whose short stature and round face led to a steady flow of character roles in film and television for nearly five decades. He appeared in two Jim Henson Company television films, Gulliver's Travels (as an elderly madman in Bedlam) and Jack and the Beanstalk: The Real Story (as "Bent Little Man," the peddler who sells beans to the original Jack).
In film, Shaps played bit parts in a wide range of high profile, international movies, including the 1962 Academy Award Best Picture winner Lawrence of Arabia (with Peter O'Toole and Omar Sharif, as the officer's club bartender), To Sir With Love (as neighbor Mr. Pinkus), and the James Bond film The Spy Who Loved Me (as Dr. Bechmann). One of his showier turns came in 1993's The Madness of King George, portraying Dr. Pepys, a royal physician obsessed with the color of His Majesty's stool. In 2002, at the age of 79, he made his final theatrical film appearances, as a pew opener in The Importance of Being Earnest and a larger role as concentration camp victim Mr. Grun in another Oscar winner, The Pianist.
Television work ranged from science fiction (multiple appearances on Doctor Who, generally as a doomed professor/archeologist) to classic literature (in the BBC miniseries of Charles Dickens' Martin Chuzzlewitt and Our Mutual Friend) to detective shows (appearances in Lovejoy, The Saint, and as Emperor Franz Joseph in a 1992 Sherlock Holmes installment).
External links
Community content is available under
CC-BY-SA
unless otherwise noted.