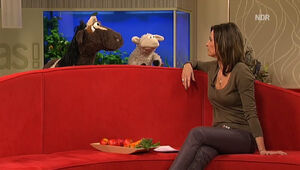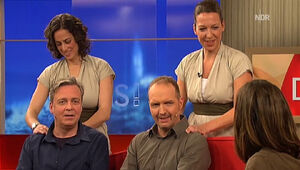 DAS! is a German talk show on TV channel NDR, airing live from Hamburg, that has aired for more than 20 years.
2012 Appearance
Pferd, Wolle, Carsten Morar-Haffke and Martin Paas appeared on the show on March 20, 2012. They were interviewed by Inka Schneider.
Pferd and Wolle were the first guests and they talked about being friends, what it is like to live in a big carrot, the red couch in the studio that smelled a little like Wolle's aunt Gertrude and many other things.
Afterwards Carsten Morar-Haffke and Martin Paas talked about the characters' personalities, how they became puppeteers, how a puppeteer works (including behind the scenes clip from Eine Möhre für Zwei).
After a few reports, Pferd and Wolle reappeared for more fun and cake. At the end of the show, the Muppeteers resurfaced and were treated to a complimentary massage to counteract the puppeteering strains.
Pferd and Wolle further talked about the new Sesamstrasse online appearance, which was introduced about a month later, in April 2012:
2013 Appearances
January 2: Ernie appeared briefly alongside actor Willi Herren, on the show hosted by Hinnerk Baumgarten, to announce the 40th anniversary itinerary taking place throughout January.
January 3: Pferd and Wolle appeared briefly alongside actor Hans Kahlert on the show, again hosted by Hinnerk Baumgarten, to mention the 40th anniversary celebrations underway.
January 4: Ernie and Bert briefly appeared together with actress Petra Kleinert on the show, once again hosted by Hinnerk Baumgarten, to talk about the 40th anniversary celebrations.
January 5: Elmo appears, advertising Sesamstrasse's 40th anniversary with guests Angelika and Hanna-Charlotte Blumroth vom Lehm as well as host Hinnerk Baumgarten.
External links
Community content is available under
CC-BY-SA
unless otherwise noted.