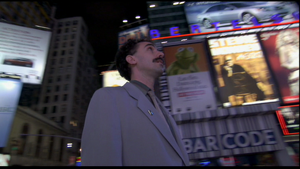 Da Ali G Show is a faux-interview comedy show created by and starring Sacha Baron Cohen as Ali G, a slang-speaking not-quite rapper from British suburbia who considers himself street-hip. The series originated on Channel 4 in 1999 and was then picked up for new episodes on HBO from 2003 to 2004.
Cohen played other oddballs, the clueless foreigner Borat and (for the HBO episodes) gay fashion expert Brüno, with all three characters graduating to feature films.
Muppet Mentions
In the HBO episode "Art" (2003), Ali G conducts an interview with media experts John Judge, Reed Irvine, Robert W. Peters, and James Dempsey. He brings up the possibility of using television to educate children, saying "Sesame Street is very educationist. I is learned a lot of from that." He asks why they don't make a version of Sesame Street for kids. Irvine tells him that's who it's made for, and Ali G is doubtful: "the other day me saw it, and the letter was X, and me don't think that kids would understand that." He then relates that he learned that "xylophone" is spelled with an X but "zoo" is spelled with a Z, which the panelists were fully aware of.
Early in the 2006 film Borat (spun-off with the Ali G Show character), Borat stands in the center of Times Square and the camera circles around him. During this, a large billboard with a picture of Kermit the Frog from the Values.com ad campaign can be seen prominently.
Connections
Community content is available under
CC-BY-SA
unless otherwise noted.