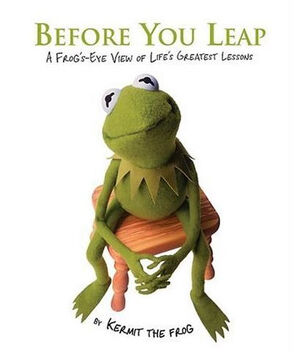 Dad the Frog is Kermit the Frog's father, as discussed in the 2006 book Before You Leap. Kermit praises Dad as his first and greatest role model, an old-fashioned frog, though not one who smokes a pipe, wears a cardigan, or takes the kids into the den for talks. Both Dad and Kermit have spindly limbs and voices of variable pitch. Kermit is frequently asked if his dad would be interested in being a contestant on Jeopardy! during Celebrity Parents Week.
When Kermit was born, Dad cried out, "It's a boy and a girl and another boy and another girl and another boy and..." until he lost his voice. Kermit also credits both Dad and Mom the Frog for encouraging him and his innumerable siblings to follow their dreams.
See also
Community content is available under
CC-BY-SA
unless otherwise noted.