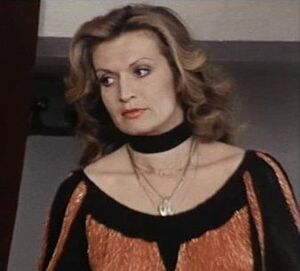 Dagmar Heller (1947-2015) was a German voice actress who voiced Nanny in the German dub of Muppet Babies and Mother Bunny in Das Hasenpicknick (The Tale of the Bunny Picnic). She also dubbed Deep Thought in the Creature Shop-effects film The Hitchhiker's Guide to the Galaxy.
Heller appeared on German television in the 1960s and '70s in episodes of Das Kriminalmusem, Tatort, and Derrick, as well as the French series Arsène Lupin. As a voice actress, she was the primary German voice of Mia Farrow and dubbed Barbra Streisand in Yentle, Meet the Fockers, and others. She also dubbed Joanna Lumley in Gia, Carrie Fisher in Appointment with Death, Teri Garr in Tootsie, Meryl Streep in Manhattan, Fran Drescher in This Is Spinal Tap, Rosalind Cash in The Offspring, Alison Steadman in The Adventures of Baron Munchausen, and Anjelica Huston in The Ice Pirates.
In animation, Heller dubbed Mayor McDaniels, Ms. Crabtree, and others on South Park, Mystique on X-Men, the narrator on the anime Nils Holgersson, and Flo on the animated ALF series.
External links