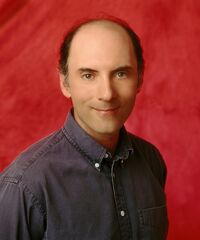 Dan Castellaneta (b. 1957) is a comic actor best known for performing the voice of Homer Simpson in The Simpsons.
In 1992, he was heard as Zabar in the Dinosaurs episode "Germ Warfare." He also reprised his role as Homer Simpson in the Sesame Street song segment, "Monster in the Mirror."
Among his other voice credits are Scarface on The Batman, Thing One and Thing Two in the feature film Dr. Seuss' The Cat in the Hat, Dracula on Animaniacs, Back to the Future: The Animated Series, Rugrats, and the Genie in Disney's The Return of Jafar. Castellaneta can be seen in guest spots on Frasier, NYPD Blue, Friends, Murphy Brown, Married with Children, and ALF.
External links