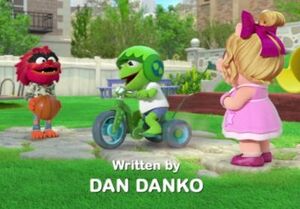 Dan Danko is a writer who wrote episodes of the 2018 Muppet Babies series. He previously wrote for the Jim Henson Company series Pajanimals.
Danko began his career in comic books, as an editor for Malibu Comics from the late 80s into the mid 90s (including several Eternity imprint titles, such as Sherlock Holmes, I Love Lucy, The Men in Black, and Planet of the Apes). For Malibu directly, he wrote on various Ultraforce-related titles, as well as a cross-over between Malibu's Rune and Marvel's Silver Surfer.
Danko moved into television, scripting for animated series Bad Dog, Ace Ventura: Pet Detective, and The Brothers Flub (which he also story edited). After co-writing juvenile novels based on Malcolm in the Middle, Danko co-wrote two episodes of the actual series. Most of his work has continued to be for animated or children's shows, including Word World, Jakers! The Adventures of Piggley Winks, Randy Cunningham: 9th Grade Ninja, and live-action Nickelodeon series LazyTown, The Fresh Beat Band, and Mutt & Stuff.
Writing credits
External links