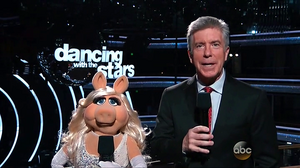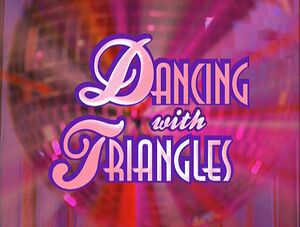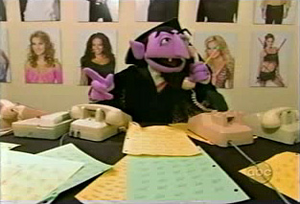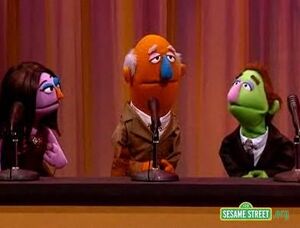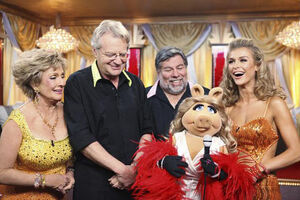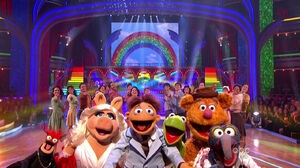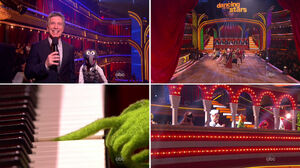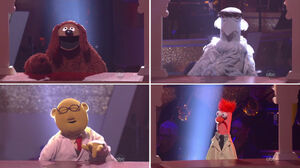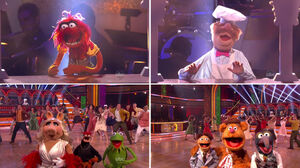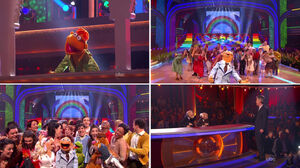 Dancing with the Stars is a television series that airs on ABC, hosted by Tom Bergeron and Brooke Burke. Samantha Harris co-hosted from seasons 2 to 9. It is based on Strictly Come Dancing in the UK where Bruce Forsyth served as host.
Sesame Street spoofed the format as "Dancing with Triangles" in a 2007 episode, with Chris, Gordon, Maria, the Elephant, and Telly Monster as contestants, and parody versions of judges Bruno Tonioli, Len Goodman, Carrie Ann Inaba and host Tom Bergeron (Tom Twinkletoes).
One of the Xbox Achievements for the game Once Upon a Monster is called "Advancing with the Stars."
Muppet Guest Spots
November 24, 2009 - Several Muppets appear on the Season 9 finale. Aaron Carter and Karina Smirnoff reprised their dance to the "Muppet Show Theme" from earlier in the season. Animal once again appeared before the start of the dance, but this time attired in a tux in honor of the occasion. Statler and Waldorf appeared in the audience to heckle Len Goodman, (Statler: I like this show. Waldorf: Why? Statler: Because of that judge in the middle! He's older than me!) And Miss Piggy interviewed past contestants Cloris Leachman, Jerry Springer, Steve Wozniak and Joanna Krupa backstage, and appeared with Maksim Chmerkovskiy backstage.
November 14, 2011 - A few seconds of Kermit and Piggy's backstage rehearsal for their upcoming appearance is shown.
November 15, 2011 - The Muppets (Kermit, Piggy, Gonzo, Walter, Scooter, Fozzie, Rowlf, Sam the Eagle, the Swedish Chef, Beaker, Dr. Bunsen Honeydew and Pepe) appear to perform "Life's a Happy Song." Gonzo aids Tom in introducing the number. Afterward, Statler and Waldorf judge. Tom remarked that it was like having "Len times 2".
September 28, 2015 - The Muppets (Kermit, Piggy, Fozzie and Scooter) appear to promote The Muppets.
Muppet Mentions
October 15, 2012 - Tom Bergeron commented on Sabrina Bryan's dance costume, saying "How many Cookie Monsters can we make out of this?"
April 11, 2016 - Football player Doug Flutie and Karina Smirnoff danced to "Rainbow Connection" in honor of Flutie's parents, who both died on the same day. It was sung by Andra Day.
Connections
Several competitors who were featured on the show have worked on various Muppet productions:

Also...
External links
Community content is available under
CC-BY-SA
unless otherwise noted.