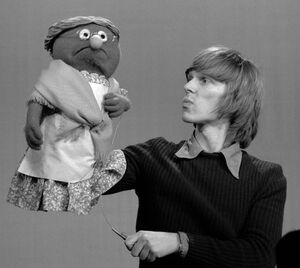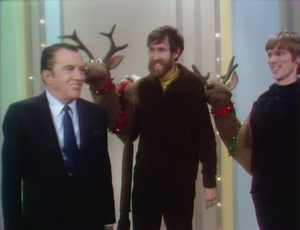 Daniel Seagren (b. ca. 1944) is a puppeteer and trained dancer who worked for Jim Henson from 1968 into the early 1970s. Seagren performed background characters in The Frog Prince, The Great Santa Claus Switch (playing Cigar Box Frackle, the proto-Gonzo), and The Muppet Musicians of Bremen.
Seagren first worked with Henson in 1968, performing reindeer in The Ed Sullivan Show rendition of the Christmas "Reindeer Bit." Other appearances on Ed Sullivan would include performing Big Bird in a dance number with birdwatchers. Seagren also filled in as Big Bird on Sesame Street for Episode 0083 when Caroll Spinney was sick. As Big Bird, he and the human cast toured around America to promote the second season.
Seagren later performed the pantomime role of Spider-Man on the Children's Television Workshop series The Electric Company. This was the first live-action depiction of the Marvel Comics character.
Later work would include designing and building puppets for and puppeteering in The Adventures of Slim Goodbody in Nutri-City (with Alice Tweedie), initially made for Captain Kangaroo, and in Miss Peach of the Kelly School (with Eren Ozker and Olga Felgemacher), a series of Canadian specials adapting the Mell Lazarus comic strip Miss Peach. He designed and constructed Kino, the lead puppet on the PBS series Storytime.
Performer Credits
External links