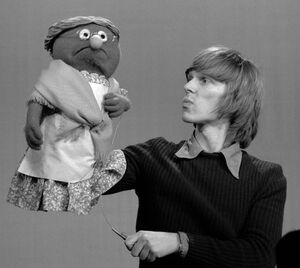 Daniel Seagren is a puppeteer and trained dancer who worked for Jim Henson from 1968 into the early 1970s. Seagren performed background characters in The Frog Prince, The Great Santa Claus Switch (playing Cigar Box Frackle, the proto-Gonzo), and The Muppet Musicians of Bremen.
Seagren performed Big Bird on The Ed Sullivan Show, and filled in as the Bird on Sesame Street for Episode 0083 when Caroll Spinney was sick. As Big Bird, he and the human cast toured around America, in promotion of the second season.
Seagren later performed the pantomime role of Spider-Man on the Children's Television Workshop series The Electric Company. He now owns a puppet building business in New York City.
Performer Credits