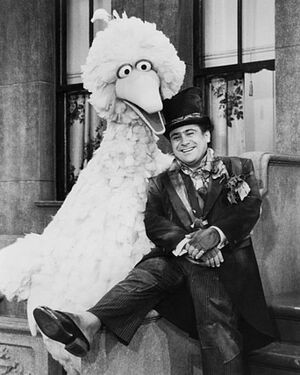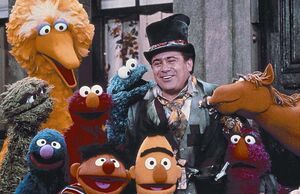 Danny DeVito (b. 1944) is an Emmy Award winning actor who became famous for his role as Louie DePalma on the TV show Taxi.
In the 1980s, he guest starred on Sesame Street as Vincent van Grouch, the Grouch curator of the Museum of Trash (First: Episode 2156). In another segment, still in costume, he gets into a laugh competition with Oscar (DeVito attempts to imitate every laughing pattern Oscar gives him). (First: Episode 2292) He appeared out of costume in a different insert, in which he waits at a grouch bus stop with Oscar and Bruno. (First: Episode 2145) (YouTube)
DeVito also appeared with then-wife Rhea Perlman in the celebrity version of Put Down the Duckie and as Worm TV hosts in the 1994 special Stars and Street Forever. He was on the cover (and a featured interviewee) in Muppet Magazine issue 22 in 1988
DeVito spoke to Empire magazine about his favorite Muppet: "Snuffleupagus. I had a terrible experience once. I was going to do Sesame Street and went to 11th Avenue in New York, where they do the show. When I walked onto the soundstage, my heart sank. Because 30 feet up, hanging on ropes, looking really limp, was Snuffleupagus. It almost destroyed me."[1]
Transitioning from television to film, DeVito has often worked with Kathleen Turner, Arnold Schwarzenegger, and director Tim Burton (including playing the Penguin in Batman Returns). He has also turned to producing (including the Andy Kaufman biopic Man in the Moon), and directing Death to Smoochy and Roald Dahl's Matilda (where he also co-starred). Other notable appearances include hosting Saturday Night Live six times, voicing Herb Powell on The Simpsons, and playing Martini in One Flew Over the Cuckoo's Nest.
References
External links
Sources