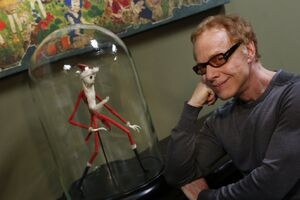 Danny Elfman (b. 1953) is a Hollywood composer who started his career as the frontman for the band Oingo Boingo.
A frequent collaborator with director Tim Burton, Elfman scored, wrote the songs for, and performed the singing voice of Jack Skellington in The Nightmare Before Christmas. One song from the soundtrack, "This Is Halloween", is performed regularly during the Halloween season by Murray Monster, Rosita, and Telly Monster at the Sesame Place theme park.
His film scores have included Pee-wee's Big Adventure, the 1989 Batman movie and its sequel, Beetlejuice, 1999's Sleepy Hollow, the 2001 re-imagining of Planet of the Apes, and Disney's 2010 live-action Alice in Wonderland (as well as its sequel directed by James Bobin). He also wrote the themes for Desperate Housewives and The Simpsons, the latter of which he also performed vocals for.
In 2006, his work "The Overeager Overture" premiered at the Hollywood Bowl which also featured appearances by Kermit, Miss Piggy, Statler, and Waldorf as part of the "Fireworks Finale" concerts.
Elfman's theme from the 1986 film Back to School was used in an AMC Theatres Policy trailer featuring the Muppets in 2011.
For the 2012 Academy Awards, Kermit and Miss Piggy introduced Cirque du Soleil with an act featuring music by Elfman.
External links
Community content is available under
CC-BY-SA
unless otherwise noted.