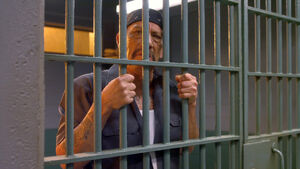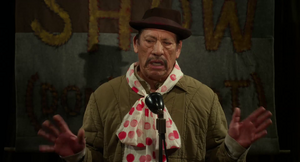 Danny Trejo (b. 1944) is an actor best known for his role as Machete in multiple Robert Rodriguez movies. Trejo filmed a cameo for the 2011 film The Muppets as a prisoner; however, his scene was cut from the final theatrical film. Footage from the scene was shown in The Fuzzy Pack trailer.
Trejo appears in Muppets Most Wanted as a prisoner in the Russian gulag. His appearance is the subject of a gag where Nadya says good night to all of the prisoners, at one point saying, "Good night, Danny Trejo." (Trejo revealed in an interview with The Muppet Mindset and Tough Pigs that Fey had actually improvised the line.) Similarly, the end credits list him as playing "Danny Trejo" (although this fictionalized Danny Trejo is a triple threat- a singer, dancer, and murderer.)
Appearing in numerous films a year, his roles include recurring characters Enrique on King of the Hill, Hector Ramos on Desperate Housewives, and guest spots on The X-Files, NYPD Blue, Modern Family and The Cleveland Show.
He was boxing coach to Eric Roberts for 1985 film Runaway Train, and his assistant for 1991 movie By the Sword.
External links