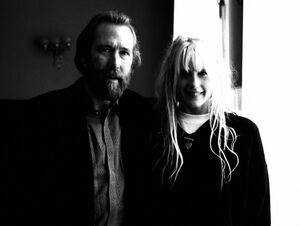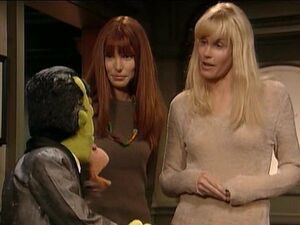 Daryl Hannah (b. 1960) is an American actress who has appeared in such notable films as Splash, Blade Runner, Roxanne (with Steve Martin), Kill Bill and the 1993 remake of Attack of the 50 Foot Woman.
In 1998, she appeared on Muppets Tonight with her sister Page in episode 212. The sisters feature in a sketch with Johnny Fiama and Sal Minella, preparing for a date with the Muppet duo.
In Jack and the Beanstalk: The Real Story, Hannah portrayed the character of council member Thespee.
Trivia
"

There are so many people in LA who have had cosmetic surgery and they all look like Muppets.

"
Sources
↑ Davis, Michael. Street Gang: The Complete History of Sesame Street, Viking, 2008. p.2
↑ 'So many people in LA look like Muppets': Daryl Hannah on why she's turned her back on Hollywood, Daily Mail, Judith Woods, June 27, 2010
External links