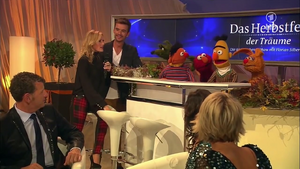 Das Herbstfest der Träume ("The Fall-Festival of Dreams") is a 180-minute German prime-time music variety TV show hosted by Florian Silbereisen and broadcast on television network ARD. It airs annually in the fall, whereas four other companion shows to the "Herbstfest" air in the spring, the summer, the winter, and during the Christmas season.
To promote the 40th anniversary season of Sesamstrasse, and to coax singer Helene Fischer into coming on their show to perform a special installment of Ernie & Bert Songs together, Ernie, Bert, Wolf, Elmo and Preston Rabbit made a surprise appearance in the city of Erfurt on October 12, 2013.
To bribe Helene Fischer to accept their invitation, Ernie made a special Sesame scarf for the singer. The quintet then joined her on her song "Mit keinem Andern," and also sang along with guest star of the evening, Mireille Mathieu, on her song "Wenn mein Lied deine Seele küsst," on her medley of songs and for the show's finale.
See also
Das Magazin zum Herbstfest, a backstage report on the appearance, was produced the same night and aired on October 18, 2013 on MDR
Community content is available under
CC-BY-SA
unless otherwise noted.