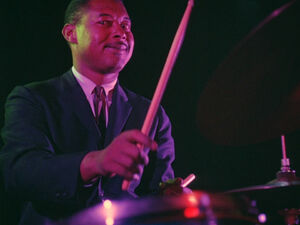 Dave Bailey (b. 1926) is a New York-based jazz drummer. He appeared in the 1965 short film Time Piece as the nightclub drummer, although the actual percussion heard on the soundtrack was courtesy of Ed Shaughnessy and George Devens.
Bailey studied drumming following a stint as a pilot in World War II. According to All Music Guide, Bailey helped popularize the bossa nova in the 1960s. Bailey served stints with a variety of jazz ensembles, including those led by Johnny Hodges, Charles Mingus, and especially Gerry Mulligan, who he worked with from 1954 until 1968. His own solo or headline album credits, often as head of "The Dave Bailey Sextet," include One Foot in the Gutter (1960), its sequel Two Feet in the Gutter, and the appropriately onomatopoeically titled Bash! (both 1961).
In 1969, Bailey returned to the military as a pilot and flight instructor. He later continued his musical involvement as an executive director of the arts and educational institution Jazzmobile, Inc. in New York City.