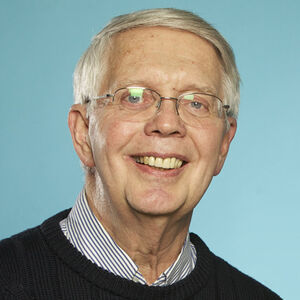 David A. Conner (June 2, 1936 - December 26, 2015), usually credited as Dave Conner, was a key part of the music staff for Sesame Street from 1974 (as early as season 5) to 2007, and wrote several songs for the series. He was initially credited as assistant music director, a function he also filled on albums, and then as conductor beginning in season 10. Starting in season 15, Conner was again billed as assistant music director, and then as associate music director with season 20. For his final two seasons, the last being season 38, Conner was credited as studio musical director. Whatever the title, his duties also included musical arrangements and vocal coaching.[1] On the albums and show soundtrack, he often played piano or keyboard in the band.
Conner earned a B.S. from SUNY Potsdam's Crane School of Music, and a Masters of Music in Orchestral Conducting from The New England Conservatory of Music. Following school, Conner directed music groups for public schools in New York and Massachusetts, played string bass in the Hudson Valley Philharmonic, and was a founding member of the High Tor Opera Company. He served as director of The Boston Conservatory's Musical Theater Department, music director for several Boston College productions, The Cape Cod Melody Tent in Hyannis, MA, The North Shore Music Theatre in Beverly, MA, and The South Shore Music Circus in Cohasset, MA.
Conner began at Children's Television Workshop in 1972, and worked on The Electric Company before moving over to Sesame Street. In addition to serving as associate music director and writing songs, he conducted several orchestral performances around the United States with Big Bird. Conner also composed and arranged music for the Big Bird StoryMagic audio tapes, as well as the Sesame Street Start-to-Read Video series, for which he wrote the theme song.
Sesame Street Song Credits
Sources