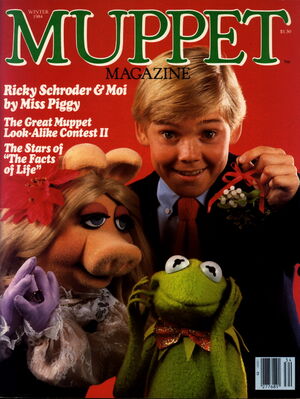 David Allikas is a writer and editor who often contributed to Muppet Magazine, usually lyrics to song parodies. Examples include the following:
Issue 1: "The Muppet Holiday Songbook" (parodying Christmas carols)
Issue 4: "Muppet Golden Oldies" (parodying songs by Elvis Presley and others)
Issue 5: "Muppet Mother Goose" (parodying nursery rhymes)
Allikas wrote for DC Comics in the early 1980s, including Sgt. Rock, Ghosts, Unexpected, G. I. Combat, House of Mystery, and Weird War Tales. He edited some of Warren Publications' horror titles, such as Eerie and Creepy and contributed to both MAD and Crazy magazines. Apart from writing for comics and entertainment magazines, Allikas was editor of Commodore computers Ahoy! and the spin-off AmigaUser, as well as writing for other computer magazines.
In 2009, Allikas released his first CD, Songs You Wish You'd Written, performing comedic tunes and song parodies.
External links
Community content is available under
CC-BY-SA
unless otherwise noted.