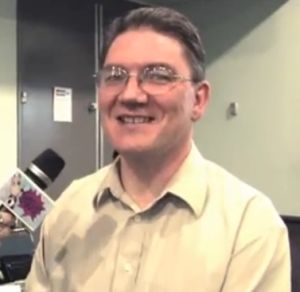 David Alan Barclay (b. November 5) is a puppeteer and animatronic supervisor with extensive experience in Muppet and Henson productions. For the Muppets, his most notable contribution was performing Sprocket in multiple international co-productions of Fraggle Rock, in some cases even re-dubbing the barks. He has also been involved with the London Creature Shop from the beginning, working on The Dark Crystal through more recent projects.
Barclay helped to build Yoda in The Empire Strikes Back, and served as Frank Oz's understudy for the character. He also performed Jabba the Hutt for Return of the Jedi. Expanding on his work in animatronics, Barclay has also worked extensively in the use of motion capture and animatronics for CGI characters, as well as actual key frame computer animation.
Barclay's non-Henson credits include Little Shop of Horrors (as part of the Audrey II team), Who Framed Roger Rabbit (as chief puppeteer for the live props handled by animated characters), and Looney Tunes: Back in Action (puppeteering Bugs Bunny in test green-screen footage).
Muppet/Creature Shop performer
Fraggle Rock: Sprocket (British and French versions), Uncle Traveling Matt (German and French versions)
The Dark Crystal: uncredited puppeteer for Aughra and UrSkeks
Labyrinth: Sir Didymus (marionette version, eyebrows on handpuppet), Firey 1 (assistant); uncredited on Shaft of Hands, Goblins (including a riding goblin), The Worm, and other assistance
The StoryTeller: Devil ("The Soldier and Death")
The Muppet Christmas Carol: Additional Muppets
The Neverending Story III: Mr. Rockbiter, Unlucky Rabbit
The Odyssey: Cyclops (facial puppeteer), Polites as Pig (puppeteer)
Lost in Space: Blawp (puppeteer)
Alice in Wonderland: Dormouse, Gryphon (face and beak sync), Flamingoes, Hedgehogs, Guinea Pig Jurors, Cheshire Cat body
The Flintstones in Viva Rock Vegas: Head Puppeteer (Puppy Dino, Alarm Bird, Mammoth, Vaccuum Cleaner, Other Appliance Creatures)
Studio DC: Almost Live!: Additional Muppet performer
Where the Wild Things Are: Puppeteer for Terry
The Muppets: Additional Muppet performer
Muppets Most Wanted: LA Muppet performer
Disney Movies Anywhere: Bunny in "Bunnies Go to Muppets Most Wanted Movie Premiere"
The Muppets Take the Bowl: Additional performer
The Muppets Take the O2: Additional performer
Crew credits
External links
Community content is available under
CC-BY-SA
unless otherwise noted.