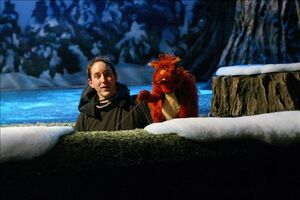 David Stephens is a puppeteer and musician who began performing on Sesame Street in Season 39. He also performed in the direct-to-video specials Abby in Wonderland and Being Green.
Stephens participated in Goodspeed's live stage production of Emmet Otter's Jug-Band Christmas, where he performed Yancy Woodchuck as well as other rabbits and squirrels, and understudied live actor Alan Campbell as Russ and Pa Otter in the 2008/2009 season. For the 2009/2010 show, Stephens continued to perform Yancy, as well as Fred Lizard and Pa Otter, and was promoted to Puppet Captain.
Stephens founded a puppet company, All Hands Productions, in 2002. His production "Billy Goats Gruff and Other Stuff" received a Citation of Excellence from the international puppetry organization Union Internationale de la Marionetta in 2005.
Stephens also performs the banjo with his band, Banjolicious, and served as one of the musicians on Jerry Nelson's album Truro Daydreams.
Muppet Credits
External links