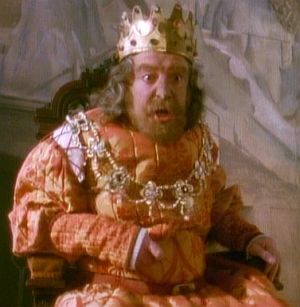 David Swift (1931-2016) was a British actor who played the king in The StoryTeller episode "Hans My Hedgehog."
Swift was active in television, stage, and radio since the 1960s. He appeared on such dramatic series as The Avengers (in the Diana Rigg era) and The New Avengers, Father Brown, Poirot, Day of the Triffids, and Bergerac. Swift was a familiar face in costume drama and period pieces, including the 1972 War and Peace miniseries (as Napoleon Bonaparte), the 1984 miniseries Freud (as Freud's colleague Josef Breuer), and the 1988 Jack the Ripper TV movie (with Michael Caine). In 1981, he seemed to specialize in Germans, from Teutonic professors in the miniseries Private Schulz and Winston Churchill: The Wilderness Years to General Rattenhuber in the TV movie The Bunker.
Swift's longest running role was on the sitcom Drop the Dead Donkey (1990-1998) as the pompous newsreader Henry Davenport, and in 2001, he starred as a grandfather who's a secret agent on the CBBC children's serial Oscar Charlie. Sporadic film credits include Travels with My Aunt (1972), The Day of the Jackal (1973) and Jack and Sarah (1995).
On radio, Swift has been heard in various plays or short serials (adaptations of Agatha Christie, Ngaio Marsh, and Graham Greene) and played Leonato in a 2001 version of Much Ado About Nothing. Between 1995 and 2005, he was the voice of God on the comedy Old Harry's Game.
External links