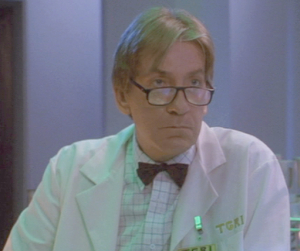 David Warner (b. 1941) is a British actor who supplied the voice of the Spirit of the Tree in the third season Dinosaurs episode "If I Were a Tree." He appeared on-camera as Professor Jordan Perry in Teenage Mutant Ninja Turtles II: The Secret of the Ooze, which used Creature Shop-supplied characters.
Warner began his acting career with the Royal Academy of Dramatic Arts and the Royal Shakespeare Company before moving into films, often typecast as either scientists or sinister figures. His movie appearances include Tom Jones, the 1976 version of The Omen (as doomed journalist Keith Jennings), the 1978 remake of Hitchcock's The Thirty-Nine Steps, Time Bandits (as the Evil Genius), two Star Trek films, Titanic, and Tim Burton's remake of Planet of the Apes. Beginning in the nineties, Warner lent his cultured tones to many villains in animated cartoons, including Ra's Al-Ghul in Batman: The Animated Series and The Lobe in Freakazoid.
External links
Community content is available under
CC-BY-SA
unless otherwise noted.