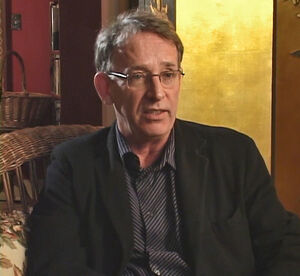 David Young (b. July 17, 1946) is a Canadian playwright and screenwriter. During the 1980s, he wrote eleven episodes of Fraggle Rock (one of which he adapted as the storybook Marooned in Fraggle Rock) and The Song of the Cloud Forest segment of The Jim Henson Hour.
In 1987, he was nominated for a Gemini Award for his writing on Fraggle Rock, but lost to the sketch comedy special The S and M Comic Book. He appears on camera speaking about his work for Fraggle Rock in supplemental material from the Season 2 and Season 4 DVD releases.
Young described his script for "Manny's Land of Carpets" as being about "the kind of delusional system that's projected by people's belief in... the world that seems to be inside that box in the corner of the room" during an interview in the "Season 2 Overview". Speaking in the "Season 4 Overview", he describes the interconnected quality that all aspects of Fraggle Rock maintains and how he used water as the common denominator for that concept in his script for "The River of Life" (a theme he would further explore in his script for The Song of the Cloud Forest). Also in the "Season 4 Overview", Young discusses how different cultures in the world attribute power given to objects through the act of transferring a thing to somebody else. This was the structure for his script to "The Perfect Blue Rollie" which went on to resonate later in a sub-plot from A Muppet Family Christmas.
His other credits include several plays including a theatrical portrait of pianist Glenn Gould, and another about a deluded farmer who believes himself to be romantically involved with Anne Murray. For television, he wrote for the Marvel Comics TV series Mutant X, as well as several TV movies and series.
Credits
External links
Community content is available under
CC-BY-SA
unless otherwise noted.