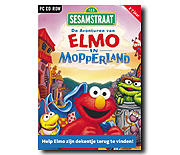 De Avonturen van Elmo in Mopperland (The Adventures of Elmo in Grouchland) is a Sesamstraat CD-ROM game developed by Mindscape and Sesame Workshop. Travel with Elmo to recover his lost blanket in Grouchland. Concepts introduced include sharing and friendship, while skills such as problem solving, observation, prediction, and spatial relations are emphasized.
Contents
"Draw, Hide-n-Seek": Elmo draws clues on his blackboard to find his Blanket.
"Main Street": Look for Blanket
"Building Tracks": Help Elmo rebuild the tracks in the coal mine.
"Make Music with the Stenchmen": Complete a musical machine.
"Climb Mt. Pickanose": Find the correct route to the top of the mountain.
"Huxley's Castle": Repeat the secret code to free Blanket.
Community content is available under
CC-BY-SA
unless otherwise noted.