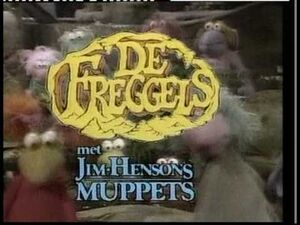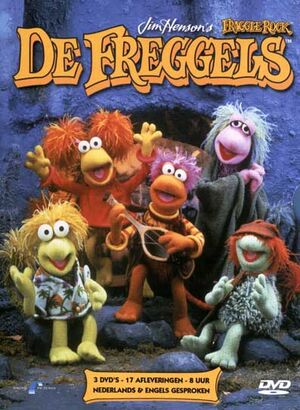 De Freggels was the Dutch dub of Fraggle Rock.
After being exclusively available on rental video in 1983, De Freggels debuted on Dutch public television in 1984. Two seasons were dubbed to Dutch. There is no new material for the Doc and Sprocket or Travelling Matt sequences; the original North American material was used.
Just like The Muppet Show and other Henson projects, Fraggle Rock was very popular in the Netherlands. There even was a Dutch Fraggle Rock Fan Club. In the 2000s, an online petition was created in order to get De Freggels released on DVD.
Many of the voice actors reprised their roles for the Dutch dub of the animated version of Fraggle Rock. Several actors also had other Muppet dub credits: Frans van Dusschoten (Gobo) dubbed all of Jim Henson's voices (Ernie, Kermit) in the Sesamstraat pilot episode, while Maria Lindes (Red, Ma Gorg) and Olaf Wijnants (Wembley) occasionally perform voices for Sesamstraat.
De Freggels aired in Belgium as well; the first season is still shown occasionally. In 2003, the complete Fraggle Rock series was broadcast in English for the first time.
Translations and voices
Names and actors
Theme song lyrics
Maak muziek en lach, zorgen voor een andere dag.
Zingen doen we vlot, in de Freggelgrot.
Translation:
Make music and laugh, worries for another day.
We're singing easily, in the Fraggle Cave.
External links