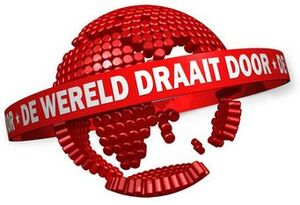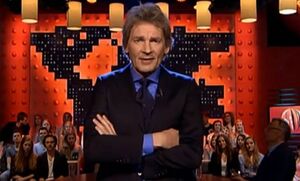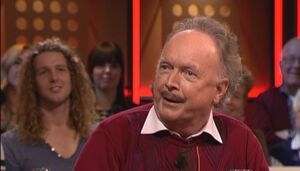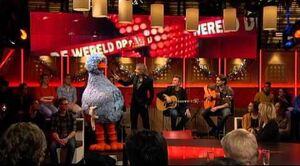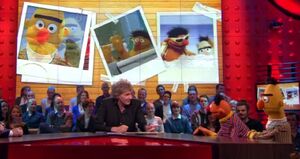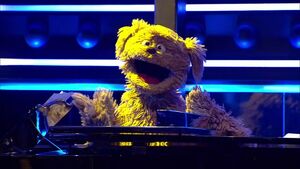 De Wereld Draait Door is a live talk show done at studio Zuiveringshal Oost on the Cultuurpark Westergasfabriek in Amsterdam in the Netherlands. It is produced by Ewart van der Horst for the Vara on NPO1 and debuted on October 10, 2005. Hosted by Matthijs van Nieuwkerk (and rotating co-hosts), the program blends guest interviews, news, and music.
Several actors or crew from Sesamstraat have been interviewed, including the Muppets themselves.
Voice actor Paul Haenen, who plays regular character pastor Dominee Gremdaat, has also mentioned his vocal resemblance to Bert (and briefly done his laugh). Other frequent guests have included Wim T. Schippers (Dutch voice of Ernie and others), actor Aart Staartjes, and writer Hans Dorrestijn. In 2009, Sesamstraat/Sesame Street harmonica player Toots Thielemans was interviewed about his Jazz Master Award. [1]
Puppeteer Bert Plagman appeared on the show in the memoriam episode after Aart Staartjes died on January 12, 2020, singing Tommie's song "Dood zijn duurt zo lang", but not in character. [2]
Muppet Related Appearances
Friday November 7, 2008: Wim T. Schippers announced that there will be new Bert and Ernie CDs available soon with new songs, introductions and sketches. Another CD that's in progress will be filled with duets sung by Ernie and several famous Dutch singers.
Monday April 6, 2009: Aart Staartjes complains about the Dutch government changing the broadcast time of Sesamstraat to 17h. [3]
Tuesday April 21, 2009: Again Aart Staartjes with director of television program schedules Gerard Timmer are invited to tell about their national action and getting the autographs for trying to change the government's decision [4]
Wednesday September 2, 2009: Wim T. Schippers and Paul Haenen are interviewed about the new clay animated segment Bert and Ernie's Great Adventures. [5]
Tuesday December 13, 2011: Pino and composer Henny Vrienten appear on the show to talk about the works and perform the song "Vliegen Als een Vogel." [6]
Friday January 15, 2016: Bert and Ernie are interviewed for the first time on Dutch television about the celebration of the 40th anniversary of Sesamstraat. Bert was puppeteered by Renée Menschaar and Lindai Boogerman, while Ernie was puppeteered by Bert Plagman and Judith Broersen. [7]
March 30 2018, Tommie appeared in De Wereld Draait Door with his song "Dood zijn duurt zo lang" written by Willem Wilmink. The Program was to honor the Dutch writer, poet and singer. At the end of the program they all sing the famous song from another children's program "Deze vuist" (this fist) from "De film van Ome Willem" in which people place each others fists on the other to build a tower high up to the sky. On the background the screens show all kind of people and famous people who join, including Pino. And still behind the piano Tommie joins as well. [8]
Muppet Mentions
Comedian Peter Pannekoek has joked about Sesamstraat and its characters at various times.
A segment, "Lucky TV," uses edited and redubbed film footage, including Pino, Tommie and Ieniemienie speaking with animal sounds instead [9]
External links
Community content is available under
CC-BY-SA
unless otherwise noted.