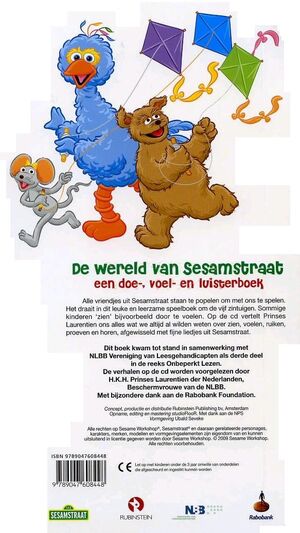 De Wereld van Sesamstraat (engl. "The World of Sesame Street") is a Dutch educational book that uses humor to teach children about the five senses. It includes braille text and an audiobook for the visually impaired.
The audiobook is narrated by Princess Laurentien of the Netherlands, who explains what senses do. The text is interspersed with songs about hearing, seeing, feeling, smelling and tasting.
The book itself was created as a collaboration between Rubinstein and the NLBB Vereniging van Leesgehandicapten (The Society for the Reading Disabled). The Rabobank offered a copy of the book to all schools for blind and related handicapped children, as well as all public libraries in the Netherlands.
Cast
Story read by H.K.H. Prinses Laurentien der Nederlanden
Production credits
Recording, Editing, Mastering:

studioFlooR

Produced by:

Rubinstein Publishing bv

Design:

Ubald Seveke
See also
External link